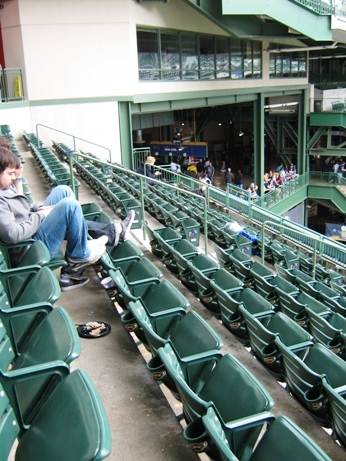 Not knocking fans of other teams, but at American Family Field in Milwaukee, you will find some seriously dedicated devotees of the Brewers.
Case in point…when tickets first go on sale every season, the Brewers hold an "Arctic Tailgate" at the ballpark every February, when temperatures can drop to single digits, and fans line up by the thousands starting the night before. No matter how cold the air, Brewers fans are always ready to celebrate baseball.
A ballgame in Milwaukee is an all-day celebration…whether it's in the parking lots full of the intense odor of coal and sausage, or in the dozens of taverns carrying their patrons in shuttles to the game. However you want to pre- or post-game a baseball event at American Family Field, the city of Milwaukee has you covered. Tailgate hard with thousands of early arrivals at the ballpark, or find your favorite type of bar food and enjoy a couple of less expensive drinks before the game.
That's not to say American Family Field itself doesn't have its own merits…like the big roof and the knowledge that a game will be played, whole sections of seats that go for a dollar on game day, or some of the coolest group party areas in baseball. It's a great place for kids too…they can play in all sorts of interactive areas and pose with several mascots.
Speaking of mascots, the Brewers were the first team to popularize a mascot race…the Sausage Race every game brings out some of the loudest cheers, and often there is a spike in sales of whatever type of sausage wins the race. But if brats aren't your thing, you can chow on an AJ Bombers burger, a loaded baked potato, nachos on a stick (!), or an amazing Holey Moley donut.
Like its Chicago neighbor 90 miles south, American Family Field extends well beyond the ballpark boundaries in the neighborhood. If you're going to a Brewers game, set aside your whole day. It's that meaningful.
Save
Save
Love this website? Please support our sponsors!
For cheap baseball tickets, TickPick rocks! (GET $10 OFF your first purchase with e-mail signup!):


For cheaper and prepaid baseball game parking…use SpotHero!

Find great deals on official MLB gear before you go to the ballpark, at MLBShop.com!

For amazing deals on hotels, flights and rental cars, try Hotwire!