Thanks for visiting! (Hi, Impact!) I'm Kurt Smith, author of the informative and necessary Ballpark E-Guides. Let me tell you how I got started and why I do this.
I grew up in the Philadelphia suburbs rooting for the Baltimore Orioles. While other kids went across the river to see their Phillies at Veterans Stadium, my father took us two hours down I-95 to see the Birds, in the much more baseball-friendly Memorial Stadium.
I remember what a sad day my last game there in 1991 was. But like everyone else, I loved Camden Yards immediately, and soon I was making 4-5 trips every year to see Ripken, Palmeiro, Mussina and the Orioles.
I wasn't independently middle class then, so to afford those trips I had to squeeze funds. I discovered that a downtown ballpark gave thrifty fans an advantage. There were nearby garages with cheaper parking. Vendors surrounded the ballpark, hawking hot dogs and T-shirts for much less than inside. You could even buy a $2 program called "Outside Pitch" at the plaza entrance.
After about 20 games at the Yard, I thought I was an expert. I knew how to avoid tolls getting there, had a favorite parking garage (but no backup plan, which turned into a disaster one night), and bought my peanuts and hot dog outside, using my remaining money for boardwalk fries and a beer inside.
Lying in bed one night thinking about how cool I was for knowing all this (and convincing myself that chicks dug it), it seemed like a book full of useful tips at every ballpark would make a great read for traveling baseball fans.
So I sat down at my PC, and began researching Citizens Bank Park in Philadelphia, since it was just a 15-minute drive from my home.
I couldn't believe what I didn't know about my own home ballpark.
I discovered that I could bring my own food into Citizens Bank Park. I learned about the Taxi Crab shuttle from Chickie's and Pete's. I found out about some less expensive parking options. And that Tony Luke's is just one of multiple varieties of cheesesteaks at the Phillies' home.
But most of all, I churned at how much money I had been wasting, not just in Philly but in all of my baseball trips over the years…for tickets, for parking, and for food. Believe it or not, I pay less for everything at a Phillies game today than I did in 2004, when the ballpark first opened…even adjusted for inflation. Here is just one example of ways I've saved a ton of money at Phillies games.
Anyway, it took a month to research and write just one chapter. That's how much I was missing out on the Philadelphia baseball experience. Soon I was researching Citi Field, and had the same experience of wishing I had done this sooner. For example, I instantly found out, as all Mets fans know, why it's a bad idea to drive to Citi Field from NJ. Which I already knew from painful experience! Just use the LIRR.
Then I went on to Nationals Park and Turner Field. Yankee Stadium and Fenway Park. And repeating to myself over and over… "Man, I wish I had known about that!"
By this time a book was out of the question. Each ballpark has enough quirks and intricacies to need its own individual guide.
All of this knowledge has completely changed the way I experience live baseball, for the better. Much, much better.
I sit in much better seats…and I'm able to afford them. I now can get access to clubs I didn't think I was "connected" enough to get into. I know how to avoid those exasperating obstructed views. I save a bunch of money and aggravation both getting to and from the ballpark, by either finding the ideal parking spot, using the right public transit route or getting a restaurant to give me a ride.
When it comes to ballpark food, I can decide for myself or tell people I'm with what to eat at the game, even if they're vegetarians or celiac-afflicted like my wife.
And of course, I know what to do when taking the kids.
But best of all, I pay a whole lot less for all of it.
It's not an exaggeration to say fans often waste hundreds of dollars seeing just one game. I used to waste my kids' education money on live baseball myself. You can do better. You can experience a ballpark the way the smartest locals do, including finding those obscure food stands that locals rave about. It's a whole lot more fun when you know about the great local stuff.
Believe me, knowledge makes a world of difference. I had visited most all of these ballparks before conceiving this idea. And I missed out on a lot that you shouldn't.
Like the tailgating in Milwaukee. Or the tbt* Party Deck in Tampa Bay. Or the entire lower level of Chicago's South Side ballpark.
I love the whole experience of live baseball, and I love being able to afford it…and have money left over for souvenirs for my kids.
Today my goal is to help you love it too…find the perfect seats for your taste and budget, learn a cheaper and easier way to get there, and lick your chops on ballpark grub you wouldn't have otherwise known about. All with plenty of "Tightwad Tips" to save you money on all of it. And, I hope, you'll find them to be an enjoyable read.
If you're visiting this website, I'm guessing you're planning to go to a baseball game soon anyway. Why not find out more for your next visit?
You'll be glad you did. I sure am.
Enjoy the website, and I'll see you at the Yard!
Best, Kurt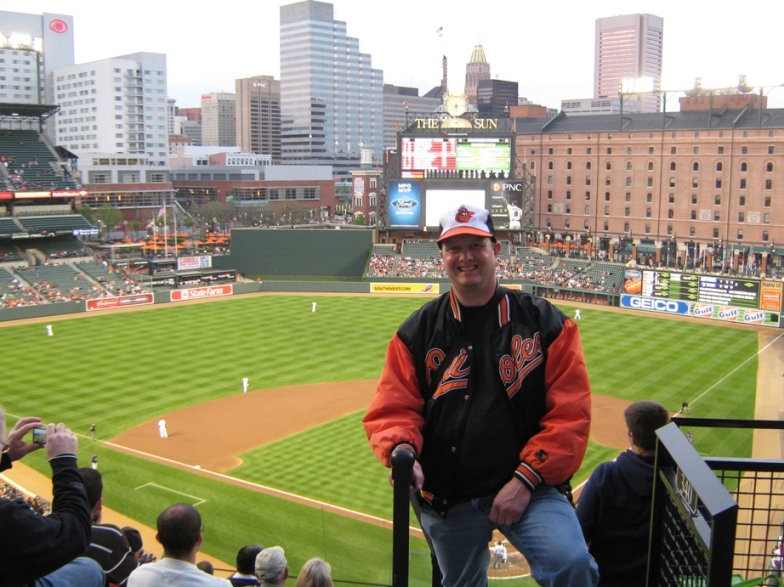 Kurt Smith is a staff writer for the outstanding JerseyMan and MiamiMan Magazines, an occasional contributor to Stadium Journey magazine/blog, and former NASCAR writer for the Charlotte Observer and the Frontstretch website. He also writes web content for VisionLine Media, the best website design team in South Jersey. Kurt lives in Turnersville, NJ, with his amazingly patient wife, and two kids who are slowly getting baseball. You can find a collection of his written works about a great number of things here.

Want to drop Kurt Smith a line? E-mail him here!