Wrigley Field Parking – Best Tips, Lot Choices, and Shuttles.
Posted by Kurt Smith
You're right to search for info about Wrigley Field parking before you go. Being in a residential area…and being a ballpark built before the rise to prominence of the automobile…Wrigley parking can be difficult to find and expensive.
But Ballpark E-Guides never backs down from a challenge, and after doing a ridiculous amount of research, here is a page full of my best tips for getting to Wrigley by car.
Want to know everything you need to know for your next trip to the Friendly Confines? Check out this well-detailed and helpful guide to Wrigley Field!
If you're looking for the easiest way to get to a Cubs game, read this about the CTA. But if you're driving, there are things you should know. Don't be that guy that settles for a $50 spot and/or misses the first inning. Give yourself a chance to get some grub outside too.
First, I will try to briefly gloss over the traffic situation…after this quick word from our sponsor, with my most valuable bit of Wrigley Field parking advice:
Never Drive To Wrigley Field Without A Plan…
Book Your Parking Spot NOW With My Friends at SpotHero!
Driving to Wrigley Field? You Should Know This…
The Cubs' website provides directions from all points, including from the airports, and in most cases they provide alternate routes. Even with these, though, you should allow a lot of time—just getting to the ballpark from I-90/94 on Addison can take almost an hour on game day.
Here are some of my own suggestions for alternate routes.
Alternate Route #1: I made a Chicago friend cringe sharing this route, so don't tell anyone.
Coming south on I-94 before it merges with I-90, exit at Cicero (41C) and go south to Foster Avenue. Coming north on I-94, use the Foster exit (42), and then make a left onto Foster.
Go east on Foster—it becomes U.S. 41 after Lincoln Avenue. Take a right on Ashland Avenue, and then use Grace Street or a nearby cross street to get to Clark.
Alternate Route #2: Coming from Lake Shore Drive, the Cubs recommend using the Irving Park or Belmont Avenue exits, but these get bogged down too, so you can get off one exit early and use Fullerton Parkway coming north or Montrose going south.
From Montrose you can turn on Ashland and use it to get to Addison (you can also make a left onto Clark just before Ashland). Irving Park Road (IL-19), with four lanes, is said to not be as bad as Belmont, so it might be okay, but this is an alternative.
Alternate Route #3 (for exiting): The city created an "offset centerline" on Irving Park Road making two lanes available westbound after the game; so this might be an easier route out than Addison if you're returning to the interstate. (It's a good idea to choose your parking spot accordingly for this, i.e. north of the ballpark.)
The general rule is that the streets west of the park (heading towards the Interstate) are the worst, so you're better off trying to approach Wrigley from the north or south, and coming from the south is easier than from the north.
There are hotels near Wrigley that presumably would provide a parking space and save you the trouble of finding a spot, but you'll pay a nice chunk of change for anything decent here. You're better off staying downtown and using the Red Line to get to the game, or staying in Skokie and using the Yellow Line.
Finally, if you're coming from out of town, you'll probably have to pay some tolls; bring a lot of quarters if you don't have a transponder, because not all of the booths have attendants.
OK, get all that? Now here are some of your Wrigley Field parking options, all of which have their merits…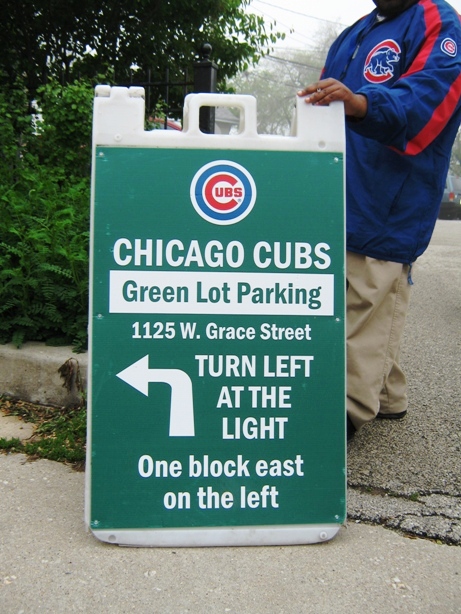 Wrigley Field Parking – From The Cubs Themselves.
As I write this, the Cubs operate six official lots. The Brown Lot is a block south on Eddy Street, the Green lot is a couple of blocks north and the Irving Park lot is about four blocks north on Irving Park Road. You can buy passes online or call the Cubs to reserve a spot for most lots.
The Green Wrigley Field parking lot is only available for weekday games, demonstrating the pull that the Cubs really have in the city. It's a couple of blocks away, but it's been repaved recently and compared to most Cubs lots, it is a relatively easy in and out.
There are port-a-pots in the Cubs lots, but tailgating isn't permitted. (So there shouldn't be lines for them.) If you plan on partying in Wrigleyville after the game, try to find a lot that will allow you to stay longer; the Cubs require you to exit their lots two hours after the game ends.
Some people feel safer leaving their car in official team lots; I'm not knocking that, but I think you'll be just fine using spots offered by your friendly neighborhood parking app. More on that in a bit.
(Wait…did I hear you say you want to park for free at Wrigley Field?)
Hey, you're a bold fan. I like that! And apparently, so do the Cubs.
The team offers a free remote lot at 3900 N. Rockwell Street; it is just off of Irving Park Road a couple of miles west of the ballpark. Believe it or not, the Cubs provide a free shuttle service from here for night and weekend games; it starts 2.5 hours before the ballgame and runs for an hour afterwards, leaving every ten minutes or so which is nice.
So with the Cubs Express bus, and with the street parking available on weekdays (more on that in a bit), you can now park for free for pretty much any Cubs game. And this shuttle allows you easy access back on I-90/94, without having to navigate through much traffic.
One caveat though…it's a very long line after the game, with thousands of other fans exiting the ballpark in other directions. Be ultra-mindful if you have kids with you.
My friends at TickPick have cheap Cubs tickets…they offer a best price guarantee, a buyer's trust guarantee, and NO service fees. Sounds like a no-brainer to me!
You have other options, too, but…
…with the Cubs apparently buying the entire North Side of Chicago, I'm not sure how many of these options remain as I write this. But here's a few non-team sanctioned lots:
Murphy's Bleachers has a small lot across the street from the bleachers entrance; it isn't any cheaper but you can keep your car there if you're partying at Murphy's afterward.
The Red Top Parking lot is close to the bleachers and is said to be an easy out; but you will pay extra to avoid being parked in.
There is a small lot at Wrigleysville Dogs on Clark (yes, with an S); it's a good spot to grab a quick cheap bite before the game.
Finally, South on Clark and Sheffield a few blocks from the ballpark, you can find parking that is a bit cheaper than the lots closest to the park; these lots are near many of the popular taverns (and Al's Italian Beef!) and there are cheaper souvenir stands nearby.
Whatever your plan, if you are coming to Wrigley by car, you'd be very wise to book your parking beforehand. Don't trust someone just because they're wearing an orange smock (that's a popular scam).
Fortunately for you, there are quite a few enterprising folks who will help arrange things for you…
Give thanks for prepaid parking!
SpotHero, for example, is like StubHub for parking spots; it's located in several tough-to-park-in cities like Chicago. With SpotHero, people that own spots near the ballpark offer them to Cubs fans online. Select a game, choose from a selection of spots, print out your reservation and set your GPS.
One very nice thing about SpotHero is that you can read reviews of spots before booking them; they will often tell you if a spot is an easy out or if it's near a favorite Wrigleyville establishment.
Cub Parking. The guys at Cub Parking have made arrangements with people who have been selling spaces near Wrigley since before they were born. You can book a spot online and they will actually greet you there most times and direct you to your spot.
You'll pay a premium price for closer spots, but you won't be blocked in, and you can keep your keys and leave anytime. Cub Parking offers overnight parking (which can be a boon in Wrigleyville).
As owner Nick Napoli told me in an interview (click here if you'd like to read it, it's very informative), it's nice to park for free and get a ride from the Cubs, but with Cub Parking you won't have to wait for a bus and pile onto it with other eager Cubs fans. He's got a point…standing on buses isn't fun.
Did you say something about "free street parking at Wrigley"?
I knew that was going to distract you. OK, here's what I know…and again, keep in mind that these rules can change.
Wrigleyville is a residential area, meaning that if you don't have a permit sticker on your car and you park in the wrong place, your car will be towed.
But there are quite a few free spaces on nearby side streets, a short distance away for weekday games when everyone is at work and many games are still scheduled. You can use these and hoof it or take a train or bus to the park.
Look for the 383 zone sign:
Generally, if you look around the side streets off of Clark Street or Waveland Avenue north and west of the park, you should see plenty of these. The signs will clearly say what you cannot do; if they don't say you can't park there during the day, you should be fine.
For day games if you are early enough (say, 3-4 hours before first pitch) you can grab one of these and park just a couple of blocks away for free; the only drawback is that you will need to be out of there by 6:00 PM (or maybe 5:00), so you can't party in Wrigleyville too long. It's a good idea to remember the address where you parked.
I've also read that there is free street parking on Clark Street north of Irving Park Road, if you don't mind at least a four block walk (past Wrigleysville Dogs, incidentally), and east of the Graceland cemetery on Kenmore there are street spots.
If you're coming off I-90/94 at Addison Street and you'd rather not fight traffic the whole way, there are side streets along Addison with spaces available, and many of them within a mile of Wrigley have no restrictions. In some spots you can park right on Addison. Just be sure to check parking regulations carefully.
If you're too tired after the game for the walk back, hop on the #152 Addison Street bus. But remember where you left your car.
The city of Chicago recently doubled the price of meters for Cubs games, so it really likely isn't worth it at $4 per hour for metered spots. You might as well find a closer lot.
One More Thing for You Cubs Fan Rockers…
I would be remiss if I didn't mention the Reggies Rock Bus. Reggies Live is a popular music club closer to the South Side; they offer packages for Cubs (and White Sox) games that include a bleacher ticket, a pre-game buffet, and a ride to the game on their wicked cool looking Rock Bus. All at a very reasonable price.
Reggies is on State Street close to the Red Line Chinatown Station; there is metered street parking nearby. Even including the parking cost it's a great deal, and Reggies is a happening live music joint. Great for rocker Cub fans. (And isn't that all of us?)
A Short Summary of Wrigley Field Parking.

When I go to a game at Wrigley, I usually use the CTA…it's cheaper than most parking and much easier than dealing with traffic. But there are cases when you might want to drive…and it's often preferable to being on a packed train.
If you take away one key tip for Wrigley Field parking, it's this: book your parking ahead of time. The free parking options are nice, but you'll either be riding a crowded bus or risking having to leave an extra-inning or rain delayed contest early. And you paid for nine innings!
Want to know more about the Friendly Confines? Check out my complete guide to Wrigley Field!
Planning a trip to Chicago? Save a bunch of money on hotels, flights and rental cars…book your trip with my friends at Hotwire! (It's still Kurt's favorite!)

Click here to start booking your trip to Chicago and Wrigley Field today!
(Note: this article contains affiliate links. If you make a purchase using these links, Ballpark E-Guides earns a commission at no extra cost to you. Thanks for your support!)
Want to save money on baseball tickets, parking and everything else?
If you go to baseball games, you're going to spend money…on tickets, parking, food and souvenirs, not to mention hotels and travel expenses if you're going on a baseball road trip.
I'm here to help…check out my Fan Resources page, where I share some of my favorite recommendations for buying tickets, booking baseball parking and saving on travel expenses.
Legal bit: My Fan Resources page contains affiliate links, so you can support this great website while making smart baseball decisions!