Three Ways To Score Cheap Phillies Tickets
Posted by Kurt Smith
If you're looking to save a few bucks on some cheap Phillies tickets, Ballpark E-Guides has a few suggestions for you. These work best if you live in the area, but you can use this to your advantage if you're visiting Philly too.
And of course, there's plenty more where this came from in this essential guide to Citizens Bank Park.
Cheap Phillies Tickets, Tip #1) Join The Club. The Phillies have fan clubs for both adults and kids, and the price is well worth the two ticket vouchers and other stuff that's included, like MLB Gameday Audio.
You don't necessarily get the best seats with the club membership, but the kids will love the paraphernalia.
Cheap Phillies Tickets, Tip #2) The Ballpark Pass. The Phillies, like other teams, now offer a pass that allows you into every home game over a month for a nice price.
This would likely be for people who live in the area, but check the schedule to see if it can help you…the Phillies schedule in September features two weekend Cubs games (which alone would be worth the price), and three each of divisional rivals Nationals and Mets. If you're a Nats or Mets fan, you might be able to see your team close in on a division title in Philadelphia.
(continued below)
Own the Ultimate Insider Fan's Guide to Citizens Bank Park TODAY…
for just $4.99!

Click the image to learn more!

Cheap Phillies Tickets, Tip #3) Help Your Fellow Philadelphian. In the Community section of the Phillies website, there are some opportunities to score tickets through kindness, such as participating in the 5K run (which costs a fee, but it's for a cause).
The Phillies will sometimes offer tickets for food donations and for other charitable events, and if you're willing to help keep the ballpark clean through their Red Goes Green initiative, they'll let you in for free and give you a food voucher.
Cheap Phillies Tickets, Bonus Tip) Try SeatGeek! I've gotten great deals on Phillies tickets through my friends at SeatGeek (it's part of how I saved $75 at Citizens Bank Park for one game), and that's why they're a favorite of Ballpark E-Guides.
If you have a problem with their being the ticket provider for the Cowboys, though, I understand.
There's just a few ways to score Phillies tickets for less; but there's a whole lot of ways to save cash on Phillies tickets, parking and food at Citizens Bank Park. Be sure to know them all for your next game…download this handy and essential guide to the Phillies ballpark!
More About Citizens Bank Park:
Three Cheaper Parking Options at Citizens Bank Park
Can You Bring Food Into Citizens Bank Park?
Five Tips For Citizens Bank Park Newbies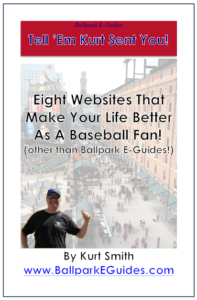 FREE eBook for traveling baseball fans! (That would be you.)

Do you love to visit ballparks and see live baseball? Subscribe to the Ballpark E-Guides e-mail newsletter today, and fill your scorecard with useful and entertaining info about your favorite ballparks, money-saving "tips of the week" for frugal fans, and of course, specials on the incredibly informative Ballpark E-Guides!
You'll also score this eBook, listing some of Kurt's favorite sites for traveling baseball fans, absolutely free of charge…just for stepping up to the plate and subscribing.
Get on base without swinging the bat…sign up today!