Fenway Park With Kids – Three Things To Know
Posted by Kurt Smith
Visiting Fenway Park with kids is light years better today than it once was before the congestion reduction, but it's still a challenge. So Ballpark E-Guides, looking out for every demographic, has three tips for parents:
Fenway Park With Kids, Tip #1) Get a FREE Ticket From Kid Nation. Yes, unbelievable as it may seem, the Red Sox offer a free ticket with membership in the free edition of Red Sox Kid Nation. The paid membership is even better…it includes a backpack, a jersey and chances to get other stuff. Well worth the price.
You still have to buy a ticket for you of course, but a free ticket to the most expensive ballpark in baseball is a nice thing.
(continued below)
Own the Ultimate Insider Fan's Guide to Fenway Park TODAY…
for just $4.99!

Click the image to learn more!

Fenway Park With Kids, Tip #2) Outdoor and Indoor Play Areas. Yawkey Way now features those bouncy houses and face painting and such, and the Sox have added an indoor play area called "Wally's Clubhouse" to the Big Concourse in right field. Virtual reality batting cages, visits with the mascot – it's the place to be for young ones, and there's plenty of dogs and ice cream stands in the Big Concourse. Wally's is open to kids starting in the 3rd inning for some reason.
Fenway Park With Kids, Tip #3) Calling All Kids Month. In June, the Red Sox arrange lots of activities for kids; they can take photos with ballplayers, or even help the grounds crew and save the Red Sox some costs. There are even kid's crew Red Sox employees outside of the ballpark to greet the little ones. Pay attention to the team e-mail newsletter for good stuff.
As I've said, Fenway is greatly improved for bringing the kids, but it can still get cramped and crowded in the concourses especially. Be sure to keep an eye on the little one especially in the concourse areas.
And when you need to know more about making a day at Fenway affordable for the family, check out this handy little guide.
More About Fenway Park:
Visiting Fenway Park – Five Tips For Newbies
Three Fenway Park Seating Tips
The Fenway Frank – As Baseball As Life Gets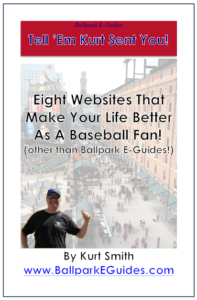 FREE eBook for traveling baseball fans! (That would be you.)

Do you love to visit ballparks and see live baseball? Subscribe to the Ballpark E-Guides e-mail newsletter today, and fill your scorecard with useful and entertaining info about your favorite ballparks, money-saving "tips of the week" for frugal fans, and of course, specials on the incredibly informative Ballpark E-Guides!
You'll also score this eBook, listing some of Kurt's favorite sites for traveling baseball fans, absolutely free of charge…just for stepping up to the plate and subscribing.
Get on base without swinging the bat…sign up today!