PNC Park Food: Three Things To Try
Posted by Kurt Smith
The PNC Park food menu, like at most ballparks, reflects its hometown. As I state in the interesting, informative and necessary PNC Park E-Guide, there is something special about the way Pittsburghers do sandwiches. There are no rules.
I'm not sure why this is some sort of thing that is somewhat unique to Pittsburgh, but the home of the Pirates is starting to reflect this in a big way, and like at most ballparks these days, fans can sample great city favorites without leaving the venue.
PNC Park Food Tip #1: The Primanti Bros. Sandwich. Some locals will tell you that the iconic Primanti Bros. sandwich is not as great at the ballpark as it is at the several Primanti locations around the Burgh. Less food for your dollar and the slaw is less tasty, I've read. If you believe that, by all means try a Primanti Bros. location elsewhere.
But if you don't have that option, the Primanti sandwich is a classic taste of Pittsburgh at the game.
I'll describe the sandwich for you. At PNC Park you have a choice of steak, capicola or roast beef, covered with cheese and on airy Italian bread. French fries and Cole slaw are included, and they just happen to be piled into the sandwich.
It is indeed a unique and delicious sandwich. I do recommend sitting down at a nearby picnic table to eat one though. If you eat it at your seat you'll be picking fries out of your lap, and that just isn't baseball.
(continued below)
Own the Ultimate Insider Fan's Guide to PNC Park TODAY…
for just $4.99!

Click the image to learn more!

PNC Park Food Tip #2: The Cracker Jack and Mac Dog. It may not be as crazy as the Froot Loops dog in Cleveland or the Burgerizza in Atlanta, but the Cracker Jack and Mac Cheese Dog is pretty imaginative as far as baseball food goes.
The Cracker Jack and Mac Dog features a dog on pita bread, with mac and cheese, pickled jalapenos and yes, Cracker Jack piled onto it.
I'm normally against putting anything sweet on a hot dog, but in this case I like the idea, because Cracker Jack is baseball food and I can only eat so much of it. I can pick off the Cracker Jacks and then have a tasty dog with mac and cheese and jalapenos, and all is well.
PNC Park Food Tip #3: The Abso-Bac'N-Lutely Burger. The fine folks at BRGR have a couple of popular burger joints in Eastside and Cranberry, and they'll sometimes have a food truck on Federal Street before games with cheaper eats than inside.
This burger isn't the type of goofball burger with froot loops or whatever that you see at ballparks these days. It's simple and necessary…a fresh patty with bacon, lettuce, tomato and your choice of cheese. It's also a nice-sized thing, and messy enough to sit at a nearby table to finish.
Best of all, BRGR has great milkshakes to go with it. Like McDonald's but without the suspicious dollar menu.
That's just a few food items in PNC Park; but there's also the Angus burgers at Manny's, the Pierogi Stacker, the Quaker Steak wings, the Reuben dog and much much more…think ahead.
More About PNC Park:
Visiting PNC Park: Five Tips For Newbies
PNC Park Parking: Three Cheap And Smart Spots
What To Eat At PNC Park: Some Tips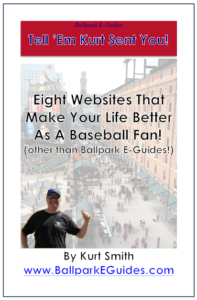 FREE eBook for traveling baseball fans! (That would be you.)

Do you love to visit ballparks and see live baseball? Subscribe to the Ballpark E-Guides e-mail newsletter today, and fill your scorecard with useful and entertaining info about your favorite ballparks, money-saving "tips of the week" for frugal fans, and of course, specials on the incredibly informative Ballpark E-Guides!
You'll also score this eBook, listing some of Kurt's favorite sites for traveling baseball fans, absolutely free of charge…just for stepping up to the plate and subscribing.
Get on base without swinging the bat…sign up today!
Save