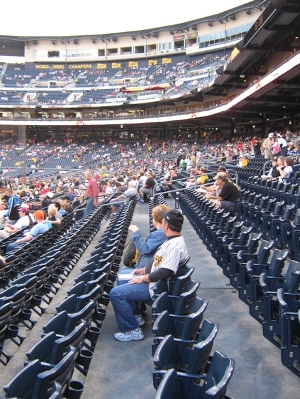 Saying PNC Park in Pittsburgh is the best ballpark in baseball is like saying Ted Williams is the best hitter ever. People might argue with you, but you wouldn't be laughed at.
Just sitting in the seating bowl of PNC Park is enough to make the claim sometimes…just on the strength of the spectacular view, of the Roberto Clemente Bridge, of downtown Pittsburgh, of the Allegheny River. It's picturesque enough that pictures don't do it justice. You almost feel as though it's part of a painting.
But PNC has a few other things going for it too. Like its location, just off the Point section of Pittsburgh, enabling fans to park downtown and cross a bridge to the ballpark for another breathtaking view. Or being close enough to a rail station to enable fans to eschew their cars. Or being across a river from a ferry station that brings a few fans to the game by boat. Or being surrounded by popular eateries of every kind, and vendors hawking everything from T-shirts to peanuts.
PNC Park is one of the smallest in baseball. The Pirates boast that the highest seat is just 88 feet from the field, and almost everywhere fans are on top of the action. It's got dark blue seats, a reminder of the Forbes Field years. It pays tribute to Pirates history quite nicely, with statues of Clemente, Stargell, and the classic of Bill Mazeroski in home run pose.
The home of the Pirates is everything baseball has always been, but with a spectacular backdrop and more leg room. Oh, and a taste of Pittsburgh, too…try the Primanti Bros. sandwich, the BRGR "Abso-Bac'n-lutely", or shake Manny Sanguillen's hand at his outfield BBQ stand.
This is one place where architects got everything right.
Love this website? Please support our sponsors!
For cheap baseball tickets, TickPick rocks! (GET $10 OFF your first purchase with e-mail signup!):


For cheaper and prepaid baseball game parking…use SpotHero!

Find great deals on official MLB gear before you go to the ballpark, at MLBShop.com!

For amazing deals on hotels, flights and rental cars, try Hotwire!