The Best Way To Get To Citizens Bank Park
Posted by Kurt Smith
It being my home ballpark, I have tried just about every method to get to Citizens Bank Park: driving my car, driving someone else's car, the PATCO-SEPTA combination for Jersey residents, the Chickie's and Pete's Taxi Crab, you name it. In the end it is still simple. Just drive your car.
The Bank is located on Pattison Avenue near Broad Street, convenient to both I-95 from north-south and I-76 (called the Schuykill or Sure-Kill by Philadelphians) from the east or west. New Jersey fans can use I-76 from the Walt Whitman Bridge.
Several exits off of both interstates are considered "Sports Complex" exits, but these do get backed up as game time nears, especially when the Phillies sell out. You can use these but from about an hour and a half before game time till about the third inning, you may run into stopped traffic, not good.
At that time you are better off using one of the Penrose Avenue exits, which will take you to Pattison Avenue. From there you can get to Citizens Bank Park from the west rather than from the east and north like everyone else.
(continued below)
Own the Ultimate Insider Fan's Guide to Citizens Bank Park TODAY…
for just $4.99!

Click the image to learn more!

There is no shortage of parking at the Bank. The Phillies have their own lots, and Lincoln Financial Field also has plenty of parking. There is also the Jetro Warehouse lot, which is just as close and more tailgate friendly than the rest.
All of the different lots mostly cost the same, but here are three cheaper choices.
I used to recommend the NovaCare lot just off of Penrose Avenue for the easiest out, and for that it's still good, but it's a hike from the ballpark and isn't any cheaper. My favorite lot now is the church on 10th Street, just north of Packer Avenue. It's cheaper than the Phillies lots and isn't much further, it's not too difficult to leave, and the approach to the ballpark is sweet, seeing the inside of it from the street.
I also have found some free street spots, which, along with all the other ways to get to Citizens Bank Park, you can learn about in the Citizens Bank Park E-Guide.
If you'd rather be closer to the ballpark, I highly recommend that you plan your route in—and out. Citizens Bank Park is surrounded by parking lots, and you'll want to be sure that you'll have as little trouble as possible getting out. Again, remember that the Sports Complex exits get backed up heavily, so avoid using them if you can.
More About Citizens Bank Park:
Visiting Citizens Bank Park – Five Tips For Newbies
How I Saved $75 at Citizens Bank Park
Five Citizens Bank Park Cheesesteaks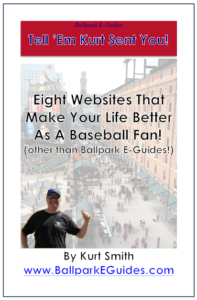 FREE eBook for traveling baseball fans! (That would be you.)

Do you love to visit ballparks and see live baseball? Subscribe to the Ballpark E-Guides e-mail newsletter today, and fill your scorecard with useful and entertaining info about your favorite ballparks, money-saving "tips of the week" for frugal fans, and of course, specials on the incredibly informative Ballpark E-Guides!
You'll also score this eBook, listing some of Kurt's favorite sites for traveling baseball fans, absolutely free of charge…just for stepping up to the plate and subscribing.
Get on base without swinging the bat…sign up today!