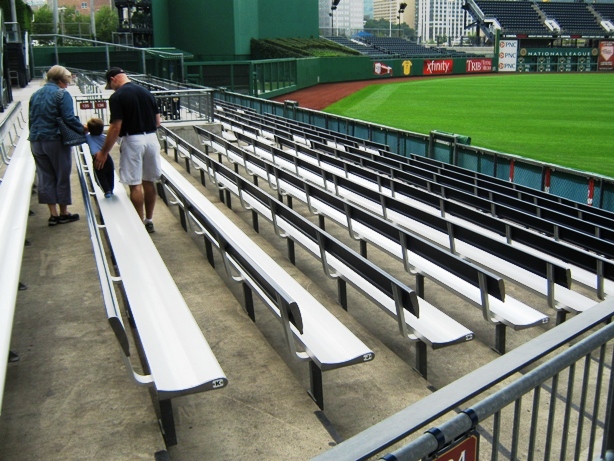 Thanks for visiting the Pittsburgh Pirates Ballpark E-Guides page! We hope that you find out some cool things you didn't know about PNC Park while you're here…and if you do, there's plenty more where that came from!
The Pittsburgh Pirates ballpark may be the best in baseball…not only does it feature a spectacular backdrop of downtown Pittsburgh and the Clemente Bridge, it's got a small number of seats for an intimate setting and those seats are Forbes Field blue, paying homage to a great team's past. PNC Park is everything a ballpark should be…intimate, in the heart of a city, easily accessible and full of tributes to a great team's past, like a statue of Bill Mazeroski in his World Series winning home run pose. And it doesn't hurt that you can walk across a bridge from downtown Pittsburgh for a stellar approach to an open-air ballpark.
The next time you're planning to visit the Pittsburgh Pirates ballpark, we have you covered…we'll tell you how to get cheap Pirates tickets, how to find seats at PNC Park that suit your taste and budget, how to get to PNC Park as cheaply and painlessly as possible, and what to eat while visiting the stunning Pittsburgh Pirates ballpark. You'll learn all sorts of great tips that only veterans of PNC Park know, and you'll save a bunch of money at your next Pirates game!
Have a look below at some helpful tips for visiting the Pittsburgh Pirates ballpark PNC Park…like getting tickets, where to sit, the best way to get there and what to eat. And congrats on being a super-smart baseball fan!
Save
Save