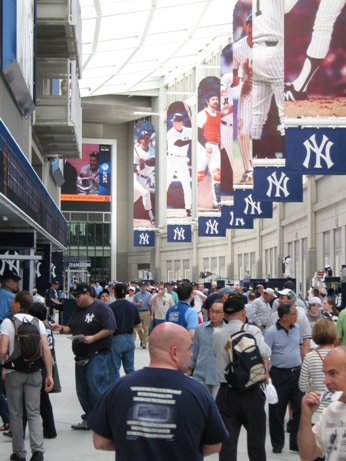 The new Yankee Stadium in New York is very good at one thing especially – reminding people what happened at the old Yankee Stadium.
From the Babe Ruth Plaza on 161st Street to Monument Park in center field to the Yankees Museum to the Great Hall, Yankee Stadium showcases the history of baseball's most successful franchise. There are trophies from the Babe Ruth Era to the Derek Jeter Era, statues of Don Larsen and Yogi Berra, monuments in center field of the greats from DiMaggio to Rivera, and larger than life posters of greats in black and white and in color.
You can't blame the Yankees, of course. Most baseball teams are happy to remind their visitors of their greatest players and which years they were the best. When one visits Yankee Stadium,
The new Yankee Stadium is big, majestic and expensive…some seats go for quadruple digits just for one game, with alcohol not even included in the deal. Parking is a bit less expensive than at Fenway Park in Boston, but still New York pricey nonetheless. Food and libations are a tad more expensive than at most baseball homes, which are pricey enough to begin with.
In fairness to the Yankees though, they do offer some great deals to fans. A Yankees ticket can cost as low as $5, and very often very good seats are made available for half the price. Unlike most ballparks, almost all of the seats on the field level are cushioned and comfortable, but if you just want to get in and see a game, the bleachers from the old Stadium are still there, as are the Bleacher Creatures. Just like at most ballparks, you can pay for luxury or enjoy a relatively affordable experience.
The Yankees recreated what was great about their previous, historic stadium, right down to keeping the dimensions and the upper level frieze. And for those into the great memories, there are plenty of reminders of them in the new Stadium.