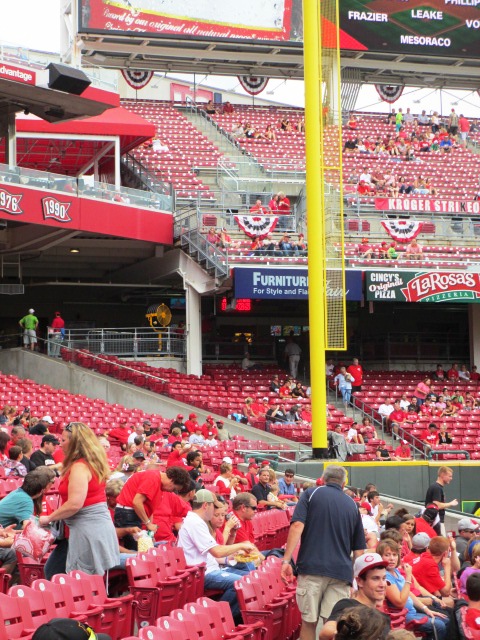 When baseball fans talk about their favorite ballparks or the ones they most want to visit, Great American Ball Park in Cincinnati doesn't usually top their list. But that's okay. Great American has a way of pleasantly surprising people like that.
It's hard to think of anything that the architects of Great American got wrong. The home of the Cincinnati Reds showcases a picturesque view of the Ohio River and northern Kentucky, it's placed conveniently close to three interstates for very easy access, and nearly all of the seats are nicely angled towards home plate. Great American may not be flashy, but it's functional. You won't be sitting behind a support pole here or even paying a ridiculous fee to park.
Great American has everything one could want in a ballpark. It showcases the team's history with one of the best team Halls of Fame in baseball. It's home to a usually competitive team with a great history, but ticket prices are rarely out of reach for most fans. It's got a kids play area with team employees pitching wiffle balls to kids, several restaurants for every income level, and lots of party areas to bring a group of Reds fans for a night of baseball. Of course, the food is local and top notch…try a Skyline chili cheese dog, LaRosa's pizza, a Penn Station sub or a Frisch's Big Boy burger. Only in Cincinnati do chains always do it right.
There's no shortage of entertainment options afterward, either…head to any of almost a dozen eateries just steps away from the ballpark, or cross the river into Newport for fun and games for kids of all ages.
Great American Ball Park does everything right. It even does some things right that many modernized parks don't do. It's ideal for one thing above all: watching baseball.
Save
Save
Save
Love this website? Please support our sponsors!
For cheap baseball tickets, TickPick rocks! (GET $10 OFF your first purchase with e-mail signup!):


For cheaper and prepaid baseball game parking…use SpotHero!

Find great deals on official MLB gear before you go to the ballpark, at MLBShop.com!

For amazing deals on hotels, flights and rental cars, try Hotwire!