Three Ways To Score Cheap Yankees Tickets
Posted by Kurt Smith
Well okay, I won't say that it's easy to land cheap Yankees tickets, especially if you would like to sit closer to the field with the wine and cheese crowd. You know, the people that Lonn Trost thinks don't want you anywhere near them.
But I will tell you that before you pay face price for tickets through the team, take a look at specials that they offer first. Some very good bargains to be had. (And there's more where that came from in this very handy booklet.)
Cheap Yankees Tickets, Tip #1) Use The Team Newsletter. You should subscribe to any team newsletter if you would like to see a game, but the Yankees newsletter especially is full of terrific offers.
The team offers half-price tickets, discounts for kids and seniors, and even some $5 tickets for low demand games. There's also specials on tickets for clubs like the Jim Beam Club behind home plate, and you can sometimes pay half the price for entry into the Jim Beam and other stadium clubs.
Always pay attention to the newsletter before paying face price.
(continued below)
Own the Ultimate Insider Fan's Guide to Yankee Stadium TODAY…
for just $4.99!

Click the image to learn more!

Cheap Yankees Tickets, Tip #2) Yankees Universe. The Yankees have several levels of Yankees Universe fan club membership, with varying prices, but they all include tickets to a game that make it well worth the cost. The MVP level membership includes those nice padded field level seats, and the membership price is much less than the face price of the tickets would be.
You get extra stuff with membership too, like a separate entrance to use (which is no small thing here, believe me), gear and bobbleheads, and deals on available premium tickets. And proceeds from membership sales go to the Memorial Sloan Kettering Cancer Center, so you're helping your fellow humans too.
Cheap Yankees Tickets, Tip #3) The Pinstripe Pass. If all you want is to get into the stadium and socialize, the Pinstripe Pass is for you; it's an inexpensive ticket and includes a free drink…which at Yankee Stadium drink prices, makes the ticket almost free.
It's a standing room ticket, but if you need a place to sit, the Bud party decks have some barstool seating, and the ushers aren't too strict if you manage to find a spot in the upper Grandstand. There are also some bars throughout the stadium where you can sit, but you won't likely have a view of the field. But hey, for the price, it ain't too bad.
There's three ways to save a few bucks on Yankees tickets, but there's a lot more to know if you want a less expensive Yankees game. If you'd like to read more tightwad tips for tickets, parking and food, check out this handy and comprehensive guide to Yankee Stadium.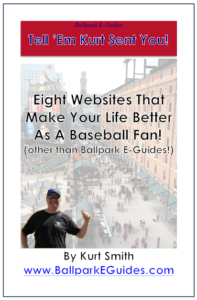 FREE eBook for traveling baseball fans! (That would be you.)

Do you love to visit ballparks and see live baseball? Subscribe to the Ballpark E-Guides e-mail newsletter today, and fill your scorecard with useful and entertaining info about your favorite ballparks, money-saving "tips of the week" for frugal fans, and of course, specials on the incredibly informative Ballpark E-Guides!
You'll also score this eBook, listing some of Kurt's favorite sites for traveling baseball fans, absolutely free of charge…just for stepping up to the plate and subscribing.
Get on base without swinging the bat…sign up today!