Three Ways To Score Cheap Reds Tickets
Posted by Kurt Smith
The Reds are pretty good about making the majority of seats at Great American Ball Park affordable for fans. But it also helps to save money by planning ahead…so here are three tips for scoring cheap Reds tickets…and remember, there's lots more where that came from in this guide to saving money at the Reds' ballpark:
Cheap Reds Tickets, Tip #1) Use The Newsletter. The Reds e-mail ticket alerts offer some truly great deals for fans, and I can tell you the Reds put more offers in their newsletter than most teams do, even when they're competitive on the field.
Deals include half-price tickets for kids on Sundays, added concessions value and discounted tickets for members of the local library or other Cincinnati institutions. The Reds are very generous to newsletter subscribers, so be sure to sign up.
Cheap Reds Tickets, Tip #2) Join The Club(s). The Reds have three fan clubs for kids of varying age levels; you can find them on the Fans page of the Reds website. Membership includes ticket vouchers that are alone worth the price, but you also get a lot of privileges and gear to go with it.
For adults, if you're early enough, you can join the Rosie Reds Club, which is a separate entity but also offers ticket deals for members.
(continued below)
Own the Ultimate Insider Fan's Guide to Great American Ball Park TODAY…
for just $4.99!

Click the image to learn more!

Cheap Reds Tickets, Tip #3) Help Your Fellow Cincinnatian. In the Community section of the Reds website are several opportunities to score Reds tickets through being a good citizen. The Reds offer tickets to fans for donating blood, participating in the "Redlegs Run", or recycling your electronics.
Nothing like getting ballgame tickets for helping your fellow human.
Cheap Reds Tickets, Tip #4) Bonus Tip: Try SeatGeek. SeatGeek is my favorite third party website for Reds tickets, and I'm not just saying that because they're an affiliate of mine. Anytime I'm looking for deals on baseball tickets, I check SeatGeek first.
Click here to search for deals on Reds tickets.
There you go, four great tips for finding inexpensive tickets to see the Cincinnati Reds. There are plenty of other ways to save money for a game at Great American Ball Park, however…you can learn about all of them in this handy guide to the Reds ballpark.
Click here for more cool Great American Ball Park tips.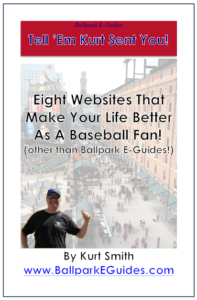 FREE eBook for traveling baseball fans! (That would be you.)

Do you love to visit ballparks and see live baseball? Subscribe to the Ballpark E-Guides e-mail newsletter today, and fill your scorecard with useful and entertaining info about your favorite ballparks, money-saving "tips of the week" for frugal fans, and of course, specials on the incredibly informative Ballpark E-Guides!
You'll also score this eBook, listing some of Kurt's favorite sites for traveling baseball fans, absolutely free of charge…just for stepping up to the plate and subscribing.
Get on base without swinging the bat…sign up today!