Can You Bring Food Into Wrigley Field?
Posted by Kurt Smith
The short answer to the question for thrifty fans is yes, you can bring food into Wrigley Field from outside. The Cubs allow a 16*16*8 soft-sided bag (which is pretty big), so long as it doesn't contain alcohol or projectiles.
So what does this mean for you? In addition to bringing in peanuts and bottled water, which is easy to find anywhere outside, including at the Addison Red Line station, you have a few places near the ballpark to load up on Cubs game sustenance.
Here are three suggestions if McDonald's, Taco Bell or Subway doesn't light up your palate:
Bring Food Into Wrigley Field, Stop #1) Wrigleysville Dogs. Yes, that's an "S" in the name. Probably some legal thing. Wrigleysville Dogs is a few steps north of the ballpark on Clark Street, and it's a great place for super cheap grub – like that classic Chicago dog dragged through the garden. You can park in their lot too, if you're early enough, but that part isn't cheap.
(continued below)
Are You Spending $312.32* For One Cubs Game?
*Average cost for a family of four in 2016.

You can do better. Click the image to find out how.
Bring Food Into Wrigley Field, Stop #2) El Burrito Mexicano. This tiny but authentic joint is right there at the foot of the Red Line station, and you can get yourself an easy-to-carry burrito to bring inside. (Burritos are an underrated ballpark food IMO.) Again, super cheap, but keep in mind that it's cash only and very popular with fans. Get there early before it gets packed if you can.
Bring Food Into Wrigley Field, Stop #3) Nuts On Clark. There is actually a Nuts On Clark outpost inside Wrigley Field as of this writing, but you can order your gourmet popcorn right there at the store on Clark Street, and it's cheaper than in the ballpark and has a wider selection. It's a very short walk from Wrigley, but it's only open during the day, so use this one for day games.
There's three outside choices in Wrigleyville for fans bringing in their own grub. But there's a pretty impressive menu inside the ballpark that you'll want to know about too. If you'd like to see all of your cool Chicago choices of food at the Friendly Confines, order yourself this handy little guide.
More About Wrigley Field:
Three Ways To Score Cheap Cubs Tickets
The Best Way To Get To Wrigley Field
Five Wrigley Field Tips For Newbies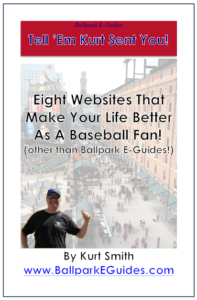 FREE eBook for traveling baseball fans! (That would be you.)

Do you love to visit ballparks and see live baseball? Subscribe to the Ballpark E-Guides e-mail newsletter today, and fill your scorecard with useful and entertaining info about your favorite ballparks, money-saving "tips of the week" for frugal fans, and of course, specials on the incredibly informative Ballpark E-Guides!
You'll also score this eBook, listing some of Kurt's favorite sites for traveling baseball fans, absolutely free of charge…just for stepping up to the plate and subscribing.
Get on base without swinging the bat…sign up today!