Camden Yards With Kids: 4 Things To Know
Posted by Kurt Smith
If you're visiting Camden Yards with kids, you have some advantages – cheap tickets, for one, with the O's struggling at the gate even in winning times. And plenty of inexpensive parking and outside food vendors.
Here are four things parents should know when bringing the kids to Oriole Park…
Camden Yards With Kids, Tip #1) Bring The Kids For Free! The Orioles announced an unprecedented initiative for 2018…free kids tickets! Yes, you read that right…for each upper level ticket you buy as an adult, you can order two more tickets for kids nine and under absolutely free of charge. This includes every game except Opening Day…including "Kids Opening Day".
This is such a cool thing for the Orioles to do that bloggers of other teams have already strongly suggested that other teams do it too…if only one team would reduce concessions prices.
Camden Yards With Kids, Tip #2) Join The Club. The Junior Orioles Dugout Club is great for the kids, especially if you can go to multiple games. For a small fee, the kid gets six free game tickets, cool gear, access to kids' newsletters and front of the line access on run the bases days. It's in the "Fans" section of the Orioles website. Speaking of which…
(continued below)
Own the Ultimate Insider Fan's Guide to Oriole Park at Camden Yards TODAY…
for just $4.99!

Click the image to learn more!

Camden Yards With Kids, Tip #3) Go on Sunday. On Sundays the Orioles offer cool activities for the kids, like face painting and autographs, not the least of which is running the bases after the game. And if the kids are into play areas at the ballpark…
Camden Yards With Kids, Tip #4) Sit In The Right Field Corner. The play area at Camden Yards with the moon bounce, pitching and batting cages and a small jungle gym isn't the greatest of any ballpark, but it can keep them occupied for a while. It's at the south end of Eutaw Street, near Gate H.
One more thing…don't forget their "first game" certificate, which you can pick up at Guest Services on Eutaw Street. It's near Boog's BBQ.
Hopefully those are some helpful tips for enjoying a game at Camden Yards with the family. If you'd like to know more about how to score great deals and find a great seat at Oriole Park, you should definitely order one of these.
More About Oriole Park at Camden Yards:
Visiting Camden Yards: Five Tips For Newbies
Four Ways To Score Cheap Orioles Tickets
Can You Bring Food Into Camden Yards?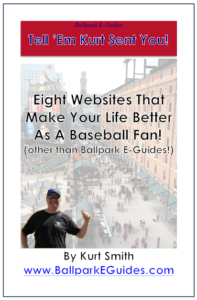 FREE eBook for traveling baseball fans! (That would be you.)

Do you love to visit ballparks and see live baseball? Subscribe to the Ballpark E-Guides e-mail newsletter today, and fill your scorecard with useful and entertaining info about your favorite ballparks, money-saving "tips of the week" for frugal fans, and of course, specials on the incredibly informative Ballpark E-Guides!
You'll also score this eBook, listing some of Kurt's favorite sites for traveling baseball fans, absolutely free of charge…just for stepping up to the plate and subscribing.
Get on base without swinging the bat…sign up today!