Four Tips For Finding Cheap Orioles Tickets
Posted by Kurt Smith
So you're looking for cheap Orioles tickets? Well, when you read the Oriole Park at Camden Yards E-Guide, you'll definitely know how to get the best deal for O's tix.
But I know you came here for the info, so here are a few tips to get you started:
Cheap Orioles Tickets, Tip #1: Use The Box Office. Orioles games rarely sell out, especially during the week. Red Sox, Yankees, and Nationals games draw bigger crowds of course, but in most cases you should be able to walk up to the box office even on game day and pick up whatever seats suit your taste. There are no ticket fees at the box office, so you save a considerable amount of cash.
You might have to stand in line a bit, but the wait isn't usually long.
(continued below)
Are You Spending $183.34* For One Orioles Game?
*Average cost for a family of four in 2016.

You can do better. Click the image to find out how.
Cheap Orioles Tickets, Tip #2: Join The Club. If you'd like to take the kids, especially for more than one game, you should definitely have them join the Junior Orioles Dugout Club first. For a small fee your little one gets tickets to a few games, and membership includes discounts on additional tickets. Well worth the fee, and the kids get lanyards and lunchboxes and stuff too.
Cheap Orioles Tickets, Tip #3: Give Blood Or Something. As of this writing, the Orioles on occasion will host a blood drive with the Red Cross. Donors usually receive two tickets and a T-shirt for their troubles. You can find out when a blood drive will be happening by checking the "Community" section of the O's website. Get game tickets and help your fellow human. Win-win.
Cheap Orioles Tickets, Tip #4: Try SeatGeek. SeatGeek is a favorite third party seller of mine, and I'm not just saying that because they're an affiliate. I almost always find the best third party deals there, and it's the first place I go to find cheap Orioles tickets. Click here to find Orioles tickets on SeatGeek.
There you go, four helpful tips to help you save money on Orioles tickets and use the extra cash for waffle fries. If you'd like to know more ways to save mucho dinero on tickets, parking and everything else at Oriole Park, be sure to order the Oriole Park at Camden Yards E-Guide today!
(SeatGeek logo courtesy of SeatGeek.)
More about Oriole Park at Camden Yards:
Visiting Camden Yards – Five Tips For Newbies
Three Cheap Parking Options at Camden Yards
Three Camden Yards Food Items: Crab Stuff!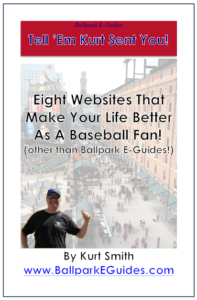 FREE eBook for traveling baseball fans! (That would be you.)

Do you love to visit ballparks and see live baseball? Subscribe to the Ballpark E-Guides e-mail newsletter today, and fill your scorecard with useful and entertaining info about your favorite ballparks, money-saving "tips of the week" for frugal fans, and of course, specials on the incredibly informative Ballpark E-Guides!
You'll also score this eBook, listing some of Kurt's favorite sites for traveling baseball fans, absolutely free of charge…just for stepping up to the plate and subscribing.
Get on base without swinging the bat…sign up today!
Save
Save
Save
Save
Save
Save
Save
Save
Save
Save