Guaranteed Rate Field Parking – Three Cheaper Alternatives
Posted by Kurt Smith
Chicago isn't a cheap city, and Guaranteed Rate Field parking lots, while spacious and convenient, aren't as cheap as they possibly could be. And while the tailgating is certainly respectable, there are some cheaper and sometimes more fun alternatives…
Guaranteed Rate Field Parking Alternative #1: The Pace Guaranteed Rate Field Express. The Pace Bus is great if you're going cheap; it's just a few bucks each way, you can park for free in a suburb like Tinley Park, and you're spared the traffic and parking hassles before and after the game…which can be considerable here.
(continued below)
Own the Ultimate Insider Fan's Guide to Guaranteed Rate Field TODAY…
for just $4.99!

Click the image to learn more!

Guaranteed Rate Field Parking Alternative #2: The Reggies Rock Bus. The Reggies people tell me there is inexpensive parking near their popular music club…you can book it ahead of time on ParkWhiz…but however you get to Reggies, you get to ride the awesome-looking Reggies Rock Bus to the game. Reggies also has specials that include a meal and game ticket, for an absolute steal of a price.
Guaranteed Rate Field Parking Alternative #3: The CTA Red/Green Lines. Okay, these are obvious – but I've already talked about Metra Rail here. Besides, both trains have their advantages – you can park very inexpensively at stations like Howard (or even in Chinatown for the Red Line), and from the 35th-Bronzeville-IIT station on the Green Line it's a short walk past cool sandwich shops like Jimmy John's to fill up your goody bag.
That's just a few alternatives to the somewhat expensive and kind-of-boring-if-you're-not-tailgating lots at Guaranteed Rate Field. But there are plenty of ways to get to the White Sox ballpark, so choose whatever works best for you.
This handy little guide should be a big help!
More About Guaranteed Rate Field:
Visiting Guaranteed Rate Field – Five Tips For Newbies
Using Metra to Get to Guaranteed Rate Field
Three Foods To Try at Guaranteed Rate Field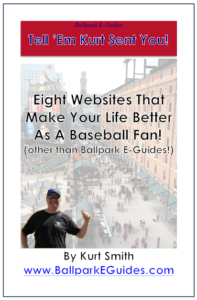 FREE eBook for traveling baseball fans! (That would be you.)

Do you love to visit ballparks and see live baseball? Subscribe to the Ballpark E-Guides e-mail newsletter today, and fill your scorecard with useful and entertaining info about your favorite ballparks, money-saving "tips of the week" for frugal fans, and of course, specials on the incredibly informative Ballpark E-Guides!
You'll also score this eBook, listing some of Kurt's favorite sites for traveling baseball fans, absolutely free of charge…just for stepping up to the plate and subscribing.
Get on base without swinging the bat…sign up today!