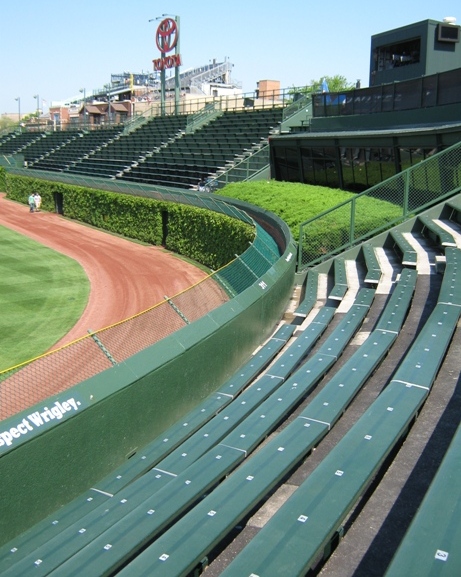 If you want a real challenge as a writer, try describing what's great about Wrigley Field in 300 words.
Wrigley Field, the Friendly Confines, that fixture on the north side of Chicago, isn't just a ballpark. It's not just bricks and ivy. It's a neighborhood. A Cubs game isn't just a ballgame. It's a whole locale of people celebrating baseball.
Wrigley Field has an ambience that cannot be created by dropping a ballpark into a town overnight. From grandstands on rooftops to bucket banging drummers to hardened street vendors to packed nearby bars serving Old Style before and after games, it's a reminder to all that a baseball game is all about having a great time.
How else could so many millions of fans pass through the turnstiles and sit in backless bleachers for 108 years without ever seeing a World Series victory? Cubs fans have spent their whole lives learning how to love a team that loses a whole lot more often than they win. Their patience has been rewarded…the team has invested millions both on improving the ballpark and improving the team. Purists may not love that bright video board in left field of a century-old ballpark, but you'll never hear them complain about seeing the 2016 flag flying next to 1908.
Whether you sit in the general admission bleachers with the partiers, in the upper rafters with the diehards, or in the press box with Bill Murray, you're going to have a blast visiting Wrigley Field. It's been that way since the days of no lights and no video board, and it remains that way even as fans can now enjoy the game with a Giordano's pizza, a Wrigley Field Smokie, and maybe even a craft beer.
Wrigley was and is still known for being a great experience even when the Cubs lost.
But a champion on the field sure hasn't hurt.