Get To Yankee Stadium: Use The 4 Train
Posted by Kurt Smith
There are many ways to get to Yankee Stadium, some expensive, some cheap. If you're being economical and coming from Manhattan, try using the 4 train.
The MTA runs a pretty tight ship. Yes, trains get crowded, but they're pretty efficient and relatively clean considering the traffic boarding on and off of them. There is an elaborate subway network in New York City that can get you from just about anywhere in the five boroughs to Yankee Stadium in two train rides and the transfer is usually free.
Like many Yankees fans, I would be coming from New Jersey, so it's likely that I would be using some sort of public transportation to get to a main transportation hub in Manhattan. Using the NJ Transit Northeast Corridor Line, for example, would drop me off at Penn Station.
Three MTA Lines—the B, D, and 4—that take riders to Yankee Stadium from Manhattan and Brooklyn. They all stop at the 161st St./Yankee Stadium Station, which is right on top of the main entrance of the ballpark. All of them get the job done just fine, but I prefer the 4 for a few reasons:
(continued below)
Own the Ultimate Insider Fan's Guide to Yankee Stadium TODAY…
for just $4.99!

Click the image to learn more!

1) The View. 4 becomes elevated in the Bronx, as opposed to the B and D which remain subway trains. Until you exit the station, you won't see daylight from the B or D. From the 4 platform you can see the Stadium come into view, which is as it should be.
2) Less confusion. The B and D lines don't always stop at the Stadium; both lines run the same route but get to Yankee Stadium only at certain times of day.
I think I have this figured out but I'm never sure: the B goes to Yankee Stadium during rush hour on weekdays, and the D goes there at all other times. At any time you can use one of them, but I'm never sure which one, and it doesn't take long to walk a few blocks to a 4 station. Yeah, I can figure it out, but I like Grand Central too.
3) Speed. The 4 line has more stops but is an express train most of the time, including when you will likely to be headed to the game and need it most. From Grand Central to 161st is 13 stops, but on an express train it is only five. Not so the B or D.
4) Great Pizza. Finally there's one last thing I don't mention in the Yankee Stadium E-Guide: The 4 and 6 trains share the same line (Lexington Avenue), and using the 4 after a day game allows you to hop off and get on the 6 to Little Italy and Lombardi's Pizza. It may not be a valuable get to Yankee Stadium tip, but I'm not just just a one-trick pony…
One last thing; if you're coming an hour and a half before game time or less, the train will start to get packed with Yankee fans. If you can, try to hop on somewhere south of Grand Central Station, for a better chance of landing a seat.
That's just one way to get to Yankee Stadium…there are also Metro-North trains, buses, even ferries…not to mention inexpensive and even free parking spots. This handy little guide will tell you everything you need to know. But if you're going economic, the 4 is as good as any.
More About Yankee Stadium:
Visiting Yankee Stadium – Five Tips For Newbies
Two Useful Yankee Stadium Seating Tips
Yankee Stadium Food: Three Things to Try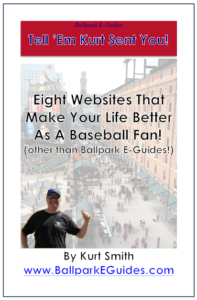 FREE eBook for traveling baseball fans! (That would be you.)

Do you love to visit ballparks and see live baseball? Subscribe to the Ballpark E-Guides e-mail newsletter today, and fill your scorecard with useful and entertaining info about your favorite ballparks, money-saving "tips of the week" for frugal fans, and of course, specials on the incredibly informative Ballpark E-Guides!
You'll also score this eBook, listing some of Kurt's favorite sites for traveling baseball fans, absolutely free of charge…just for stepping up to the plate and subscribing.
Get on base without swinging the bat…sign up today!