Three Extra Miller Park Tips For Fans
Posted by Kurt Smith
Hopefully this site has provided some great Miller Park tips for your next visit to the fine home of the Brewers. Here are just a few extra things to see in your visit.
Extra Miller Park Tips, #1: The Construction Workers Statue. During the construction of Miller Park, three construction workers lost their lives in the Big Blue crane accident, when a crane toppled and crashed in windy conditions. The ballpark's opening was delayed a year as the team recovered and cleaned up the mess from the crane.
Today William R. DeGrave, Jerome Starr, and Jeffrey A. Wischer are memorialized in a statue of their likenesses, which is found near the front entrance. It is fitting that the Brewers recognized that tragic day.
(continued below)
Own the Ultimate Insider Fan's Guide to Miller Park TODAY…
for just $4.99!

Click the image to learn more!

Extra Miller Park Tips, #2: The Sausage Race. There are a lot of noisy between-innings promotions during Brewers games, but don't miss the Klement's racing sausages in the middle of the sixth inning. In the race five Brewers employees dress up as the Racing Sausages mascots: a hot dog, a brat, a Polish sausage, an Italian sausage and a chorizo, and then race around the foul territory of the ballpark.
Fans love the Racing Sausages—it's some of the loudest applause you'll hear throughout the game. You can even get T-shirts for each one. And of course, it's a reminder that you can get a sausage here.
Extra Miller Park Tips, #3: Autograph Alley. Autograph Alley is located near the Third Base Entrance, not far from TGI Friday's. It is a wall of baseballs signed by the game's superstars, other celebrities, and people who purchased a ball to sign.
You can spend some time here looking at the signatures, some of which are amusing, or you can go to the Brewers' website beforehand to find the location of any signed ball you may be looking for. Some big names here include Alice Cooper, Muhammad Ali, Joe DiMaggio and of course Robert Grzeszkiewicz.
I left out some other things I liked—like Helfaer Field outside the ballpark, the tailgating scene, the interactive Bud Selig tribute, and the Kids Zone. Check them all out; wander around this ballpark. It's got plenty to amuse you. And there's lots of other stuff to know, too…you'd do well to get yourself one of these.
More About Miller Park:
Visiting Miller Park: Five Tips For Newbies
Miller Park Tailgating: Five Useful Tips
Three Foods To Try At Miller Park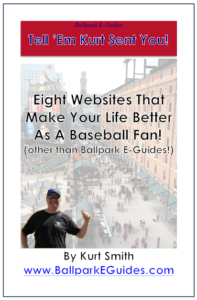 FREE eBook for traveling baseball fans! (That would be you.)

Do you love to visit ballparks and see live baseball? Subscribe to the Ballpark E-Guides e-mail newsletter today, and fill your scorecard with useful and entertaining info about your favorite ballparks, money-saving "tips of the week" for frugal fans, and of course, specials on the incredibly informative Ballpark E-Guides!
You'll also score this eBook, listing some of Kurt's favorite sites for traveling baseball fans, absolutely free of charge…just for stepping up to the plate and subscribing.
Get on base without swinging the bat…sign up today!