Comerica Park Parking – Three Affordable Spots
Posted by Kurt Smith
There are affordable options for Comerica park parking, but it helps to know what you're doing ahead of time.
Like many post-Camden Yards ballparks, Comerica was placed in the heart of a city, but unlike most major league cities, Detroit doesn't have much in the way of viable public transit to get to the ballpark (they're working on it, though). This creates a unique situation, in that there's a wide swath of city blocks with off street lots and garages that charge for parking on game day.
It's a good idea to decide where you're going to park beforehand, so here are three good suggestions from my own experience. They sometimes involve arriving early, so have a plan for something to do.
Comerica Park Parking, Tip #1: The Greektown Casino Garage. The Greektown area in Detroit is full of restaurants and bars, and the Casino garage is not only in the middle of it, but it's also very easily accessed from I-375 and a quick and easy out.
You used to be able to validate your ticket in the casino and park for free on game days, but that isn't quite so easy now. The official policy, so I was told, is that you need to accumulate a certain number of points on your card and that will make your parking free.
But if you're not into giving a casino money (they don't build those chandeliers with your winnings), you might be able to show up well before the game starts and escape without a fee, especially if it's a weekday or other low demand game. I managed this twice in my last visit.
If it doesn't work, at worst you pay a small fee–$10 as of this writing–and you can park your car all day in a covered, attended garage that's a short walk or People Mover ride to the ballpark. And you can get a great meal nearby before or after the game. I've been told not to hang out in Greektown too late though.
(continued below)
Own the Ultimate Insider Fan's Guide to Comerica Park TODAY…
for just $4.99!

Click the image to learn more!

Comerica Park Parking, Tip #2: The Fox Theatre Garage. In 2002, I was on a baseball trip with a companion, and I parked my Mustang in the Fox Theatre garage in the morning, for a night game, so that we could get on the People Mover and see downtown Detroit attractions for the day.
This was well before I had offspring, so I wasn't overly concerned about the parking cost. The Fox Theatre is practically across the street from the ballpark, on a game day I figured it would be $20-25. But as we pulled out of the garage after the game, the bill turned out to be just a mere $2.
Two bucks to park across the street from a major league ballpark. Even in 2002 that was unheard of!
In my last visit to Comerica, I noticed that the rate in the morning was $5, and they told me that yes, you can leave your car there all day including through the game for that price. (There are other places where you can do this, like near the courthouse.)
And again, if it doesn't work, you've parked your car in a covered, attended garage that is very close to the ballpark for a fee that isn't too bad.
Comerica Park Parking, Tip #3: The "Other" Ford Field Lot. Ford Field, the home of the Lions, is right next door to Comerica Park…you can see the name of the place on the building from most of the seats.
Ford has a high end lot where tailgating is allowed, on Montcalm Street adjacent to I-75, but this lot costs about as much as the Tigers lots near the ballpark…and they're not cheap.
But there is a much cheaper lot on the other side of the football stadium from the ballpark, and it's nicely convenient to the I-75/I-375 interchange for an easier out than most lots.
The best part about this spot is that on most days you can actually walk through the impressive dome to the ballpark, see the football field and even grab a bite to eat at the food stands that are inside. Great on a less than perfect day and you can put some grub in your doggie bag for the game.
Unfortunately you can't walk through the football stadium on the way back…probably because you won't be hungry then. But you may pass by some very talented bucket drummers on the way to your car. Well worth it.
That's just three Comerica Park parking spots…there are many other ways to get to Comerica, and there's probably a way to get there that suits your taste and budget. Find out about all your choices with one of these.
More About Comerica Park:
Visiting Comerica Park – Five Tips For Newbies
Get To Comerica Park – Three Tigers Shuttles
Comerica Park Food – Three Things To Try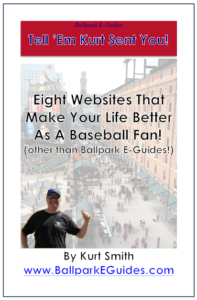 FREE eBook for traveling baseball fans! (That would be you.)

Do you love to visit ballparks and see live baseball? Subscribe to the Ballpark E-Guides e-mail newsletter today, and fill your scorecard with useful and entertaining info about your favorite ballparks, money-saving "tips of the week" for frugal fans, and of course, specials on the incredibly informative Ballpark E-Guides!
You'll also score this eBook, listing some of Kurt's favorite sites for traveling baseball fans, absolutely free of charge…just for stepping up to the plate and subscribing.
Get on base without swinging the bat…sign up today!