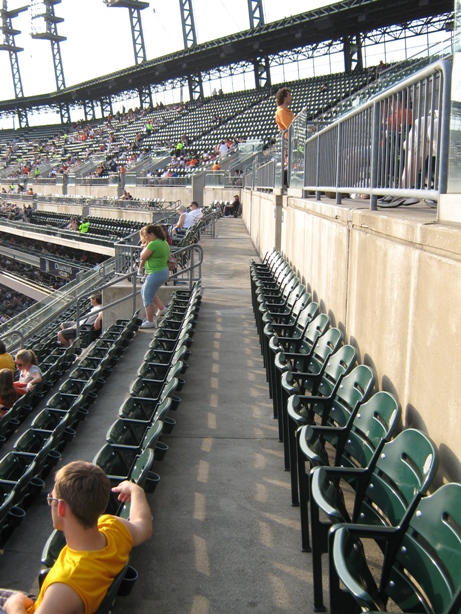 Comerica Park replaced Tiger Stadium in Detroit, which wasn't easy for many older Tigers fans to swallow. But they did a pretty nice job with the replacement.
In some ways, Comerica has more of a retro feel than Tiger Stadium did…unlike its predecessor, Comerica is an open-air ballpark with a fine view of the skyline, it's got the same bricks and steel construction that made Camden Yards so appealing, and it's got a pretty neat visual feature: huge, menacing tiger statues, including a large one with its paw raised at the main gate.
Comerica Park was kid-friendly before kid-friendly was cool. Just inside the main entrance is a food court with a carousel of all things…with tigers to ride on instead of horses. Walk down aways past the Brushfire Grill and you'll see a ferris wheel with baseball-shaped cars. A generation of fans too young to remember Tiger Stadium will remember how they first got hooked on Comerica Park.
And Comerica has plenty of sit-down eateries too, in case that Late Night Dog with bacon bits and a fried egg isn't your thing…eat outdoors at the Brushfire, have a sit down in the excellent Beer Hall tavern, take in an upper level view in the Jungle in the outfield, or try that Motor City restaurant full of Tigers memorabilia that replaced Leo's Coney Island. Afterwards, have a drink by the fire pit on the sofa in the New Amsterdam 416 Bar with a friend, and holy crap, we're missing the ballgame!
Like many new ballparks, Comerica has done a fine job renewing a once blighted neighborhood. Numerous bars and restaurants have sprung up nearby, and fans can now add some time in popular Greektown to a day at the ballpark. And there's plenty of shuttles too…including from Nemo's, the Corktown establishment from the Tiger Stadium days.
It's one of the more underrated ballparks in baseball, and you'll see why when you go.
Love this website? Please support our sponsors!
For cheap baseball tickets, TickPick rocks! (GET $10 OFF your first purchase with e-mail signup!):


For cheaper and prepaid baseball game parking…use SpotHero!

Find great deals on official MLB gear before you go to the ballpark, at MLBShop.com!

For amazing deals on hotels, flights and rental cars, try Hotwire!