Visiting Camden Yards – Five Tips For Newbies
Posted by Kurt Smith
If you're visiting Camden Yards in Baltimore for the first time, there's a few things you should know about one of America's greatest sports venues. Here are five tips for a great Baltimore baseball experience.
Visiting Camden Yards Tip #1: Upgrade your seat preferences. The Orioles offer some of the better prices on high end seats in baseball right now; if you want to splurge on Club seating or Field Box behind home plate, Camden Yards is the place to do it. If you don't care which game you go to, try looking on SeatGeek for top level seating for a midweek game against a West Coast opponent (except for Mike Trout's Angels, who draw a nice crowd from NJ), and you may find a top seat at a very good price.
Visiting Camden Yards Tip 2: Almost all the seats are good, but… you should stay away from the higher rows of the Terrace Box and Lower Reserved seating. They are among the cheapest seats in the ballpark for a reason; the overhang blocks a good portion of the view of the scoreboard, skyline and even much of the warehouse. OK on a hot day, maybe, but not if you really want to experience Camden Yards…which is, after all, all about the view.
(continued below)
Are You Spending $183.34* For One Orioles Game?
*Average cost for a family of four in 2016.

You can do better. Click the image to find out how.
Visiting Camden Yards Tip #3: Pick a parking spot beforehand. There's a lot of parking at Camden Yards, but you don't want to be searching for an affordable spot on game day, especially north of the ballpark and in the Inner Harbor area. I have used ParkWhiz with success in the past, and you'll know exactly where to go, at least, rather than sitting at two hour red lights with $30 garages everywhere you look. If you haven't picked a spot, park at M&T Bank Stadium for the best deal, but it's much better to search before you go. Trust me, I speak from experience.
Visiting Camden Yards Tip #4: Try the crab dip waffle fries. You can find these at the Freestate Fries or Flying Dog stands; they're waffle fries covered with a very Maryland-style crab dip. You can sprinkle some Old Bay on it from the condiment sections nearby. There's other great food stuffs like Boog's turkey sandwiches or the Dempsey's Walk-Off, but if you're gonna have one Camden Yards food item, this is a pretty good choice. And it won't fill you up too much. Finally…
Visiting Camden Yards Tip #5: If you're a visiting team fan… cheer your Red Sox or Yankees or Blue Jays all you want…just be mindful that Baltimore is offering you a pretty nice baseball experience at probably a better price than your own team is. Be respectful of Orioles fans, they deal with more visitors than just about any fan base. Don't bring bad karma on your team…early in 2011 a visiting Red Sox fan threw an Orioles home run ball back onto the field. That year the Red Sox blew a nine-game lead in September and were eliminated from playoff contention the last day of the season…in Baltimore. Coincidence? I think not.
There you go; five tips for newbies visiting Camden Yards for the first or second time…and don't forget the Brooks Robinson statue and the pre-game party at Slider's/Pickles Pub across Russell Street. Baltimoreans love hanging out where there are cheap Natty Bohs to be had, and they're a fun bunch. Make sure you're prepared with one of these.
More about Oriole Park at Camden Yards:
Camden Yards Parking – Three Cheap Spots
Three Foods to Try at Camden Yards
Camden Yards Seating – Two Tips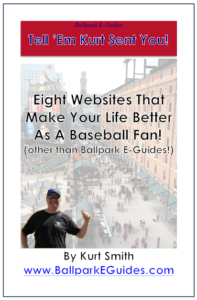 FREE eBook for traveling baseball fans! (That would be you.)

Do you love to visit ballparks and see live baseball? Subscribe to the Ballpark E-Guides e-mail newsletter today, and fill your scorecard with useful and entertaining info about your favorite ballparks, money-saving "tips of the week" for frugal fans, and of course, specials on the incredibly informative Ballpark E-Guides!
You'll also score this eBook, listing some of Kurt's favorite sites for traveling baseball fans, absolutely free of charge…just for stepping up to the plate and subscribing.
Get on base without swinging the bat…sign up today!
Save
Save