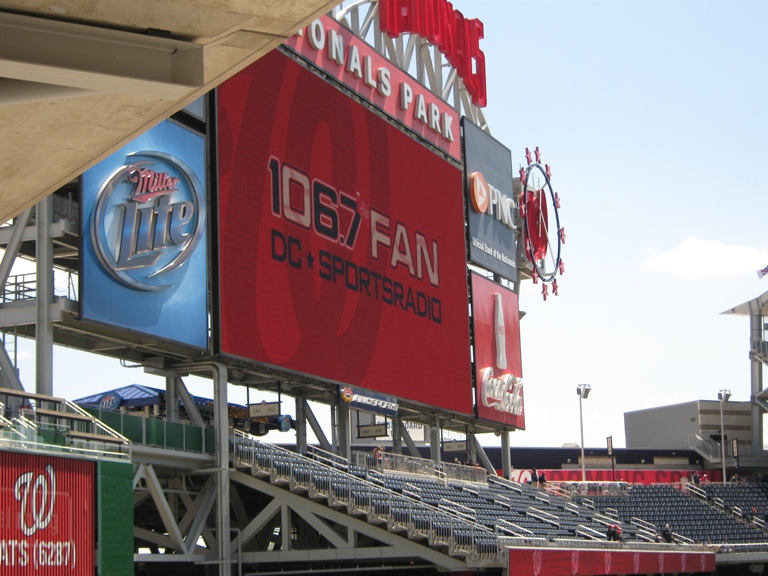 Thanks for visiting the Washington Nationals Ballpark E-Guides page! We hope that you find out some cool things you didn't know about Nationals Park while you're here…and if you do, there's plenty more where that came from in the Nationals Park E-Guide!
The Washington Nationals ballpark has nicely welcomed major league baseball back into the nation's capital, with a sleek concrete and steel design and a downtown location that encourages public transit to get there. As fans emerge from the Navy Yard Metro station, the home of the Nationals comes fully into view from Half Street…and fans walk past tons of inexpensive vendors of tees, dogs and peanuts before entering Washington's ballpark and its fan-friendly views of both the ballpark and the Capitol building. It's as if baseball never left D.C.
The next time you're planning to see a game at the Washington Nationals ballpark, the Nationals Park E-Guide has you covered…we'll tell you how to get cheap Nationals tickets, how to find seats at Nationals Park that suit your taste and budget, how to get to Nationals Park as cheaply and painlessly as possible, and what to eat when visiting the Washington Nationals' ballpark. You'll learn all sorts of great tips that only veterans of Nationals Park know!
Have a look below at some helpful tips for visiting Washington Nationals ballpark…like getting tickets, where to sit, the best way to get there and what to eat. And congrats on being a super-smart baseball fan!
Save
Save