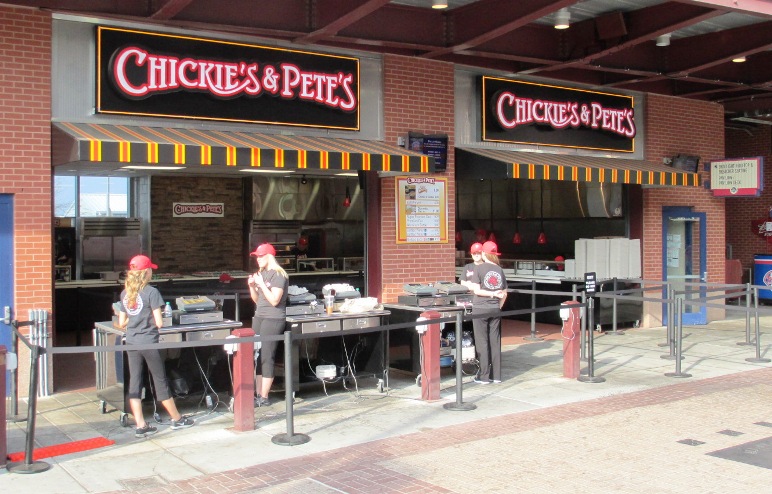 Thanks for visiting the Philadelphia Phillies Ballpark E-Guides page! We hope that you find out some cool things you didn't know about Citizens Bank Park while you're here…and if you do, there's plenty more where that came from in the Citizens Bank Park E-Guide!
The Philadelphia Phillies ballpark may have been the biggest improvement over its predecessor. Citizens Bank Park is everything Veterans Stadium wasn't…a bricks and steel, open air ballpark that is every bit as nice to walk around in as it is as a venue to watch baseball. Citizens Bank Park is rightly designed only for baseball, features great sightlines, and it's got a fine timeline of the history of baseball in Philadelphia. Not to mention a first class selection of ballpark food…four brands of cheesesteaks, Federal Donuts and those crazy addictive Chickie's and Pete's fries. And there's no better mascot in sports than the Phillie Phanatic.
The next time you're planning to visit the home of Aaron Nola and Carlos Santana at the Philadelphia Phillies Ballpark, our E-Guide has you covered…we'll tell you how to get cheap Phillies tickets, how to find seats at Citizens Bank Park that suit your taste and budget, how to get to Citizens Bank Park as cheaply and painlessly as possible, and what to eat when visiting the Philadelphia Phillies ballpark. You'll learn all sorts of great tips that only veterans of Citizens Bank Park know!
Have a look below at some helpful tips for visiting Citizens Bank Park…like getting tickets, where to sit, the best way to get there and what to eat. And congrats on being a smarter baseball fan!