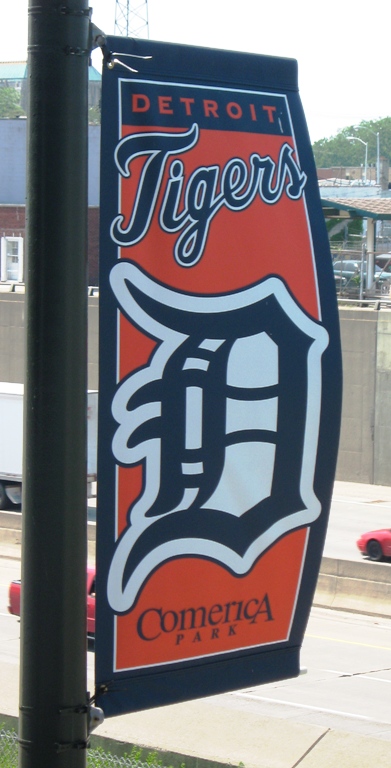 Thanks for visiting the Detroit Tigers Ballpark E-Guides page! We hope that you find out some cool things you didn't know about Comerica Park while you're here…and if you do, there's plenty more where that came from!
The Detroit Tigers ballpark has some big shoes to fill…it replaced the iconic Tiger Stadium, much to the chagrin of many longtime Tiger fans. But Comerica Park brought out much the same emotions that Camden Yards in Baltimore did…"yeah, we still miss the old place, but the new one is pretty darned nice". Comerica Park has a beautiful brick façade with impressive and intimidating tiger statues, a superb backdrop of downtown Detroit, a carousel with tigers instead of horses, and a cool assortment of eateries both inside and outside the ballpark in downtown Detroit. However much you may miss Tiger Stadium, a game at Comerica is pretty cool.
The next time you're planning to visit the Detroit Tigers ballpark, Ballpark E-Guides has you covered…we'll tell you how to get cheap Tigers tickets, how to find seats at Comerica Park that suit your taste and budget, how to get to Comerica Park as cheaply and painlessly as possible, and what to eat when visiting the Detroit Tigers' ballpark. You'll learn all sorts of great tips that only veterans of Comerica Park know!
Have a look below at some helpful tips for visiting Comerica Park…like getting tickets, where to sit, the best way to get there and what to eat. And congrats on being a smarter baseball fan.
Save
Love this website? Please support our sponsors!
For cheap baseball tickets, TickPick rocks! (GET $10 OFF your first purchase with e-mail signup!):


For cheaper and prepaid baseball game parking…use SpotHero!

Find great deals on official MLB gear before you go to the ballpark, at MLBShop.com!

For amazing deals on hotels, flights and rental cars, try Hotwire!