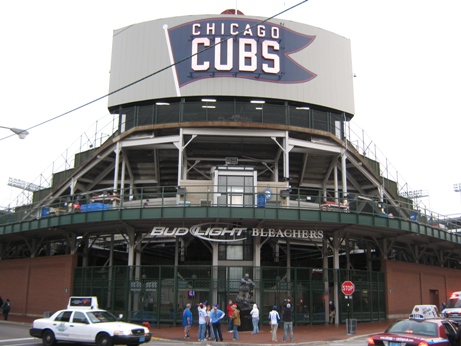 Thanks for visiting the Chicago Cubs Ballpark E-Guides page! We hope that you find out some cool things you didn't know about Wrigley Field while you're here…and if you do, there's plenty more where that came from in the Wrigley Field E-Guide!
The classic Chicago Cubs ballpark has been among the most popular ballparks in baseball for over a century…fans in both Chicago and across the country visit Wrigley by the millions for all of its wonderful classic charms…the bricks and ivy in the outfield, the fans sitting atop neighboring buildings, the hand-operated out of town scoreboard and a Cubs team that has finally ended a 108 year championship drought! And the Cubs have not only put a champion on the field, they've added all sorts of improvements to Wrigley…like a video board, new millennial friendly party areas, improved bleachers and of course, the amazing Hot Doug's dogs!
The next time you're planning to visit the home of Kris Bryant and Anthony Rizzo at the 2016 World Champion Chicago Cubs ballpark, the Wrigley Field E-Guide has you covered…we'll tell you how to get cheap Cubs tickets, how to find seats at Wrigley Field that suit your taste and budget, how to get to Wrigley Field as cheaply and painlessly as possible, and what to eat when visiting the iconic Chicago Cubs ballpark. You'll learn all sorts of great tips that only veterans of Wrigley Field know!
Have a look below at some helpful tips for visiting Wrigley Field…like getting tickets, where to sit, how to get there and what to eat. And congrats on being a smarter baseball fan.