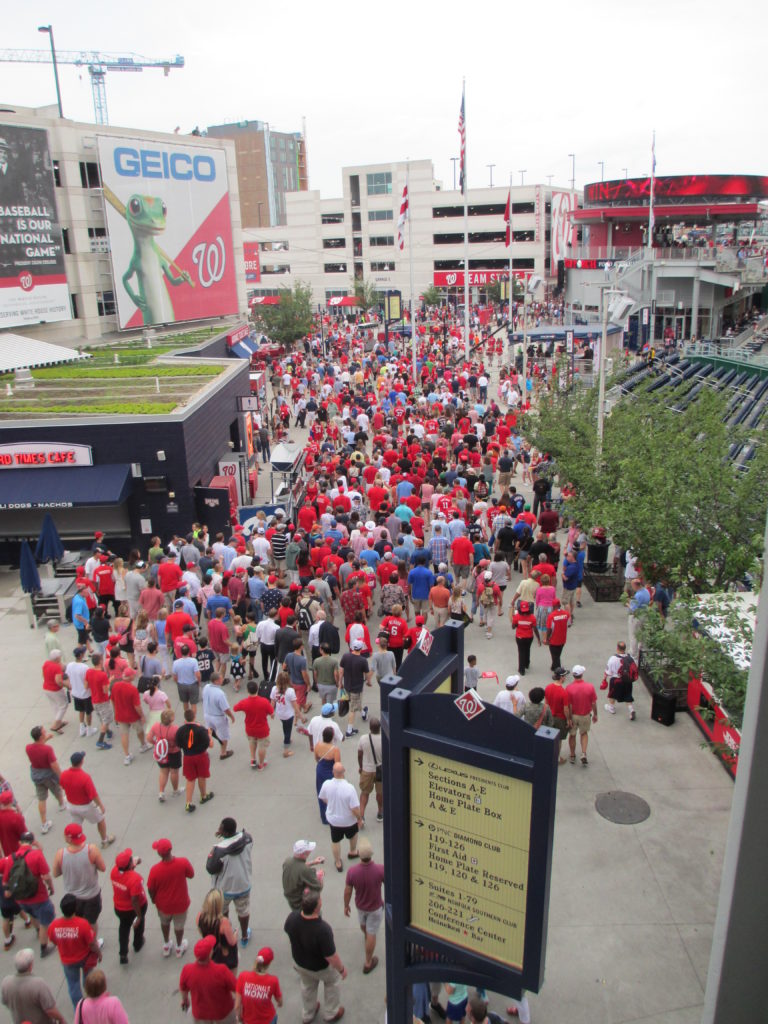 Like with its National League East rival in Philly, Nationals Park's best attribute is its superiority over its predecessor.
RFK Stadium was adequate to welcome the Nationals after their departure from Montreal as the Expos, but that was with the stipulation that a new and much nicer ballpark would replace it. Nationals Park delivered.
Nationals Park doesn't have much of a retro feel about it, except for its closeness to a Metro station and easy access for public transit. Which is needed, given the traffic problems in the area and the cost of parking near the ballpark. But that's actually kind of a cool thing…Washington's Metro system is more efficient and comfortable than most, and the approach from the Navy Yard station to the ballpark on Half Street…with a cool view inside the center field entrance and past dozens of food and T-shirt vendors and street performers is one of the more appealing in baseball.
Inside Nationals Park are seating areas for every kind of fan, from the really expensive President seats to the extremely cheap Grandstand seats that can go for as low as $5 on game day. Fans can sit down for a meal at the Budweiser Brewhouse in center field, or enjoy some of the better standing room choices in baseball, or spring for the club seats with carveries and brick oven pizza.
Not that you won't have great food choices around the concourses. Nationals Park has every kind of ballpark food you can imagine and probably a few you can't…there's that Shake Shack and Box Frites from New York, the incomparable Ben's Chili half smoke, the G sandwiches from chef Mike Isabella, even a stand selling shawarma and falafel. Nationals Park has among the most unusual food choices in baseball, and it's hard to go wrong with almost anything.
Nationals Park is a modern marvel with a fine location next to the waterfront with great views. It hasn't taken long for the return of baseball to be a hit in the nation's capital.