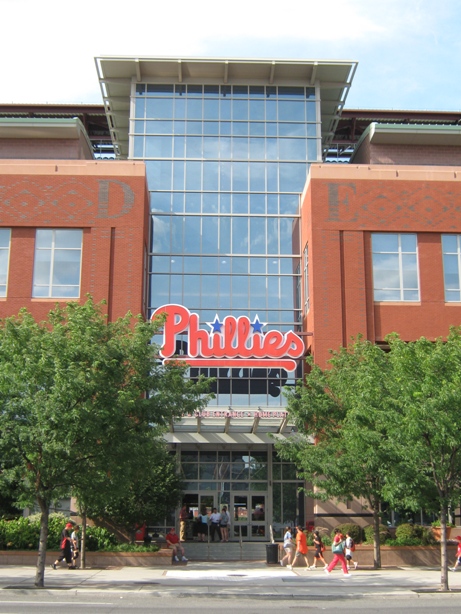 Citizens Bank Park in Philadelphia is a superstar in the ballpark boom. Like any of the ballparks that replaced the concrete donuts of the 1970s, its greatest strength may just be what an improvement it was.
The Phillies went from playing in an enclosed, concrete, artificial turf donut to an open air, brick façade, natural grass, intimate facility. Citizens Bank Park features a dark red exterior, an outfield walkway with a team Hall of Fame and excellent timeline of Philadelphia baseball, a restaurant named for the team's most famous announcer, sapphire blue seats that all seem close to the action, and at least three variations of that Philly staple, the cheesesteak.
In fact, Citizens Bank Park isn't a bad place to sample a lot of great Philly foods. There's Tony Luke's and Campo's cheesesteaks, both of which are legendary in their own way; the inimitable Federal Donuts and their crunchy fried chicken and equally crunchy hot donuts; the ubiquitous and addicting Chickie's and Pete's crab fries; or you can sample some BBQ from the Bull himself, Greg Luzinski.
Philadelphia baseball is unique in its Philadelphia way. It's got raucous fans (but most of them are much nicer than the national sports media would have you believe), a storied history that goes back to the days of Connie Mack and the Athletics (which are alluded to by the Rooftop Bleachers), a neon Liberty Bell that could only be in the nation's founding city, and the greatest mascot in sports, the Phillie Phanatic.
Imagine a cartoon caricature of the typical Philly fan and that's just what the Phanatic is…he taunts opposing players, thrusts his ample hips at umpires, and generally demolishes the boundaries of acceptable mascot behavior. The Phanatic alone may be worth the price of a Phillies ticket.
Not that Citizens Bank Park wouldn't be otherwise. It's a great venue in its own right, and when the Phillies are good, it rocks as loud as any.