The Wrigley Field E-Guide is your complete insider's guide to Wrigley Field in Chicago! This handy booklet and PDF contains all the information you need about how to…
…Get tickets. Find out the best way to get cheap Cubs tickets…whether you're using the Cubs website, the box office, the Wrigleyville agencies, a third party seller like StubHub or even scalpers, you'll know how to get the best deal for any Cubs game…and take advantage of specials the Cubs and other outlets offer…
…Get a great seat. Pick the perfect seats at Wrigley Field to suit your taste and budget. Whether you're sitting in Field or Terrace Box seats, the Upper Box, or the famous Wrigley Field Bleachers, you'll know what to expect…even the best standing room spots, and of course, how to avoid those dreaded obstructed views…
…Get to the ballpark. Find out how to avoid Wrigley traffic and find the perfect parking spot without paying crazy Wrigley parking fees…even park for free. Or avoid Chicago traffic hassles using the Red Line or the Wrigley Field Express bus. You can ride a Divvy bike too…this complete guide to Wrigley Field covers it all!
…Get some good eats. Learn about that iconic Chicago Dog, Hot Doug's, Giordano's pizza or the unusual hot dog toppings at Decade Dogs. Or enjoy a sit down meal at the Decade Diner and bring in popcorn from the original "Nuts on Clark"…the Wrigley Field E-Guide covers that too…
…Get a few extras. Get the vibe on the Wrigleyville atmosphere and where fans go to celebrate a Cubs victory. Learn what the scoop is on the remaining Wrigley Rooftops. Even learn a little bit about the mentality of the Cubs fan…
…best of all, SAVE MONEY.
If you haven't read this complete guide to Wrigley Field, you're probably paying too much for Cubs games. The Wrigley Field E-Guide is full of "Tightwad Tips" that show you how to go cheap on everything from Cubs tickets to parking to food!
Download the PDF today for just $7.99, or order the nicely compact print edition…with the PDF included at no extra charge…for just $9.99 plus shipping!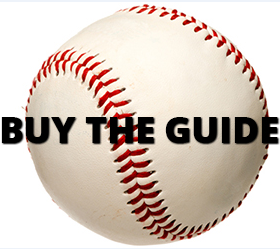 Save
Save
Save
Save
Save
Save