Great American Ball Park Seating – 3 Cool Spots
Posted by Kurt Smith
The Great American Ball Park seating chart has something for everyone, and each seating section has its advantages for every taste. Here's a bit of my opinion on just three noteworthy sections, but you can get the full lowdown with this outstanding guide to Great American Ball Park.
Great American Ball Park Seating, Tip #1) The Champions Club. Like with their neighbors in Cleveland, the club seats at GABP are on the mezzanine level on the first base side, over the field level seats.
The seats here are wider than most and padded, have a great view of the action and a straight ahead view of the Big Board, and best of all include access to the climate-controlled Champions Club and its buffet.
The buffet with non-alcoholic drinks is included in the ticket price, and features Cincy greats Montgomery Inn BBQ sandwiches and LaRosa's pizza, along with a carvery and Asian food station. At ballpark prices, you should be able to get your money's worth on that.
Great American Ball Park Seating, Tip #2) The Sun/Moon Deck. The Sun/Moon Deck area in right field is so named for your ability to see the sun or the moon easily from the section, which isn't covered anywhere. There's actually a pretty nice view of the Cincinnati skyline from here as well.
The Sun/Moon Deck is a popular spot for the river breeze and the proximity to great food and the kids' play area; just make sure that you're protected from the sun on those blazingly hot Cincinnati summer days. They have misters nearby in center field.
(continued below)
Own the Ultimate Insider Fan's Guide to Great American Ball Park TODAY…
for just $4.99!

Click the image to learn more!

Great American Ball Park Seating, Tip #3) The Fioptics District. If you're not quite yet into baseball enough to just sit in a seat for nine innings and would like to socialize a bit (and I'm not judging), the Fioptics District is ideal for you. It's a lounge area with a full bar, comfy sofa-style seats with a fine view of the city, and tables and drink rails with a view of the ballgame from left field.
The best part is that the Reds sell a very inexpensive "District Ticket" that includes added value for a drink or a concessions item, and you can actually use this credit in the nearby Machine Room restaurant. Great for a nice cheap evening of baseball.
That's just three seating areas of Great American Ball Park; you have a lot more to choose from, like the Scout seats, the Diamond Club or the bleachers. If you want the full skinny on everything you need to know at GABP, download this handy little guide!
More About Great American Ball Park:
Five Newbie Tips For Great American Ball Park
Three Great American Ball Park Parking Options
Three Foods To Try At Great American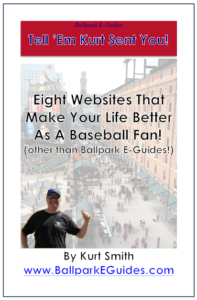 FREE eBook for traveling baseball fans! (That would be you.)

Do you love to visit ballparks and see live baseball? Subscribe to the Ballpark E-Guides e-mail newsletter today, and fill your scorecard with useful and entertaining info about your favorite ballparks, money-saving "tips of the week" for frugal fans, and of course, specials on the incredibly informative Ballpark E-Guides!
You'll also score this eBook, listing some of Kurt's favorite sites for traveling baseball fans, absolutely free of charge…just for stepping up to the plate and subscribing.
Get on base without swinging the bat…sign up today!