Progressive Field Parking – Three Swell Spots
Posted by Kurt Smith
The Progressive Field parking layout is sufficient enough to handle most Indians games – although you should probably use the RTA if the Cavaliers are in town. For most games, though, you have plenty of choices for cheap and/or convenient parking.
Here are three favorites I've found, each suitable for its own situation…
Progressive Field Parking, Tip #1) The Gateway East Garage. This garage is right across Larry Doby Way from the ballpark, and for the convenience it's reasonably priced (and cheaper than most East 9th St. lots). Just get there early, or book your spot ahead of time especially if you anticipate a big crowd at the game.
(continued below)
Own the Ultimate Insider Fan's Guide to Progressive Field TODAY…
for just $4.99!

Click the image to learn more!

Progressive Field Parking, Tip #2) The Tower City Garage. Tower City is a bit of a walk from the ballpark, but most of it is a covered walkway for RTA users that are dropped off at Tower City, so weather shouldn't be a problem. It's cheap and an easy out after the game, and nearby restaurants like the Hard Rock Cafe will pick up some of the tab for you if you eat there.
Progressive Field Parking, Tip #3) The Flat Iron Cafe. You can park for free on the street at the Flatty, as locals call it, or use the very inexpensive lot nearby. At the Flatty you can have a decent meal and ride their shuttle to the ballpark and back. Great money saver for parking and food if you have the time, and you're spared the traffic hassles at the ballpark.
There you go, three helpful parking tips for Indians games at Progressive Field. But you have lots of other options to get there, like light rail, the Healthline, even the Great Lakes Fatty Wagon. If you'd like to know more about all of them and save yourself money and time, be sure to read one of these before you go!
More About Progressive Field:
Visiting Progressive Field – Five Tips For Newbies
Three Foods To Try At Progressive Field
Three Extra Progressive Field Tips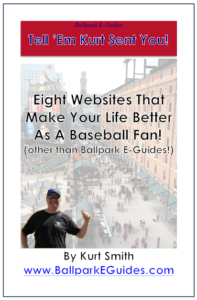 FREE eBook for traveling baseball fans! (That would be you.)

Do you love to visit ballparks and see live baseball? Subscribe to the Ballpark E-Guides e-mail newsletter today, and fill your scorecard with useful and entertaining info about your favorite ballparks, money-saving "tips of the week" for frugal fans, and of course, specials on the incredibly informative Ballpark E-Guides!
You'll also score this eBook, listing some of Kurt's favorite sites for traveling baseball fans, absolutely free of charge…just for stepping up to the plate and subscribing.
Get on base without swinging the bat…sign up today!