Can You Bring Food Into Citizens Bank Park?
Posted by Kurt Smith
Like with most ballparks, fans can bring food into Citizens Bank Park in Philly…which is a great money-saver for fans.
The Phillies allow a 16*16*8 soft-sided cooler in the ballpark, subject to inspection: no alcohol, no glass bottles or containers, and nothing that can be used as a projectile.
But since Ballpark E-Guides always takes the extra base for readers, in addition to answering whether you can bring food into Citizens Bank Park, here are a few suggestions of where to get cheap outside eats…
Pastaficio's. Pastaficio's is a fresh pasta and Italian foods outlet located in the same plaza as the Packer Avenue Chickie's and Pete's…if you're using the Taxi Crab, it's a great food stop. Locals rave about the chicken parm sandwich, but all their offerings are good…Pastaficio's is a hidden gem.
(continued below)
Own the Ultimate Insider Fan's Guide to Citizens Bank Park TODAY…
for just $4.99!

Click the image to learn more!

Chickie's and Pete's. And there's Chickie's and Pete's of course, purveyors of the famous crab fries in the ballpark itself. The actual restaurant offers valet parking for a couple bucks cheaper than the ballpark, and that Taxi Crab will take you to the game. Get two orders of the crab fries to go…which come with two cheese containers that cost extra at the ballpark, and you're getting the iconic Philly fries at almost half the cost.
Nuts To You. Nuts To You isn't very close to the ballpark, but there is a location very close to the Walnut-Locust Station on the SEPTA Broad Street Line…making it a perfect stop for Jersey fans using the PATCO-SEPTA combination to get to the Bank. Nuts To You features every kind of snack imaginable, from sesame sticks to wasabi peas, but best of all they sell fresh, warm peanuts in a paper bag…still the go-to ballpark snack.
There's three great options to bring food into Citizens Bank Park…and remember, it's still a place where you can eat very well inside. Be sure to be prepared with this handy insider's guide to the home of the Phillies!
More About Citizens Bank Park:
Visiting Citizens Bank Park – Five Tips For Newbies
How I Saved $75 at Citizens Bank Park
Five Citizens Bank Park Cheesesteaks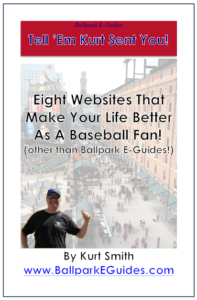 FREE eBook for traveling baseball fans! (That would be you.)

Do you love to visit ballparks and see live baseball? Subscribe to the Ballpark E-Guides e-mail newsletter today, and fill your scorecard with useful and entertaining info about your favorite ballparks, money-saving "tips of the week" for frugal fans, and of course, specials on the incredibly informative Ballpark E-Guides!
You'll also score this eBook, listing some of Kurt's favorite sites for traveling baseball fans, absolutely free of charge…just for stepping up to the plate and subscribing.
Get on base without swinging the bat…sign up today!
Save
Save