Citizens Bank Park Cheesesteaks
Posted by Kurt Smith
Here are five, yes, five cheesesteaks…or more correctly, five varieties of Citizens Bank Park cheesesteaks…that you can try without having to leave the ballpark and drive around the city. When people think Philly, they think of submarine rolls with sliced beef and cheese in them.
Citizens Bank Park Cheesesteaks, Tip #1: The Tony Luke's "Whiz Wit". I don't know why Philadelphians have such a hard time saying "onions", but for some reason "with onions" is abbreviated to "wit" here. And Whiz is, of course, Cheez Whiz. The one and only.
Tony Luke's doesn't chop up their beef too fine, but they don't just put the whole slab on the roll either…so they're something in between Pat's and Geno's in Philly, if you're familiar with the two (I guess if you are, you've probably heard of Tony Luke's too). And I can't find many other uses for Cheez Whiz, but I will admit it's great on a steak sandwich.
Tony Luke's at the ballpark also has a popular roast pork and provolone sandwich, but we're talking about cheesesteaks here.
Citizens Bank Park Cheesesteaks, Tip #2: The Campo's Heater. Campo's Deli is a long time Market Street institution…in a city where everyone is advised to try Pat's or Geno's, Campo's is a place that locals know about and patronize rather than getting in long tourist lines for Pat's.
The Heater is my favorite of the Bank's cheesesteaks. It's a cheesesteak kicked up a few notches, or more correctly a few hundred thousand Scoville units, with Buffalo sauce, jalapeno cheddar, and jalapenos piled on if you want.
It seems required to add the jalapenos, because you asked for heat, right? But truthfully, while I do pile some on, it isn't necessary…the Heater is a pretty hot sandwich on its own. Highly recommend a beer or other drink with it. But it's not so hot that there's no taste. Plenty flavorful.
Here's a pro tip for Campo's: they have a "Works" sandwich too, with onions and mushrooms and stuff, and you can get that with the Heater cheese and sauce. Makes for one truly awesome sandwich.
(continued below)
Own the Ultimate Insider Fan's Guide to Citizens Bank Park TODAY…
for just $4.99!

Click the image to learn more!

Citizens Bank Park Cheesesteaks, Tip #3: Delco's Original Cheesesteak. The Delco's kiosk is something of a hidden gem in Citizens Bank Park; unless you are a reader of this website or the Citizens Bank Park E-Guide you may not have even heard of it. In fact, neither did I; it may have been the most egregious omission in an E-Guide in my seven years of doing this.
Delco's uses shaved ribeye on Liscio's rolls; it's just a cheesesteak or pizza cheesesteak with American or provolone cheese. But the nice thing is that they don't skimp on the beef. I heard a customer saying there was too much meat in the sandwich. He wasn't complaining, just pointing out the challenge of adding onions.
Delco's is a nice alternative to Tony Luke's and Campo's. As one employee there told me, "We're on the rise!" Check them out.
Citizens Bank Park Cheesesteaks, Tip #4: The Harry The K's Vegan Cheesesteak. I'm not a vegan or vegetarian sort…as you can see from what you've just read…but I do try to eat healthier these days, and besides, I'm looking out for all my readers.
I didn't expect much from a sandwich with tofu and mushrooms as its filler, but this one wasn't bad at all. I think they may add some salt to it to improve the taste, but if you can eat a portobello mushroom or one of those veggie patty burgers, you'll enjoy this.
It's overpriced as all ballpark food is, but at least it's a fairly filling sandwich that's a little easier to digest. And you can sit down waiting for it at a table with a nice view of a baseball field rather than standing in line.
Citizens Bank Park Cheesesteaks, Tip #5: The "Generic" Cheesesteak. The Cobblestone Grill and Germantown Grill stands sell a generic cheesesteak or chicken cheesesteak (with Buffalo sauce if desired). If you're just going plain Jane, it's a way to avoid the Tony Luke's and Campo's lines.
The beef is from Original Philly, who, according to their website, supplies all of the cheesesteak meat to the Phillies, so the meat is no different from Campo's. It's a little skimpy on beef though, so if you're looking for a heftier sandwich try Delco's.
There you are…five choices of that innovative sandwich, the Philly cheesesteak, at Citizens Bank Park. But there's a whole bunch of other food choices too…like Federal Donuts, Chickie's and Pete's crab fries, Wayback burgers, Wahoo tacos and much more…be sure to plan ahead.
More About Citizens Bank Park:
Visiting Citizens Bank Park – Five Tips For Newbies
Three Cheap Citizens Bank Park Parking Options
Citizens Bank Park Food: Three Things To Try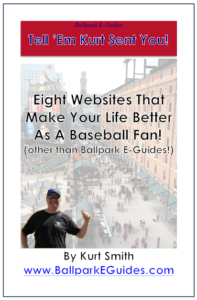 FREE eBook for traveling baseball fans! (That would be you.)

Do you love to visit ballparks and see live baseball? Subscribe to the Ballpark E-Guides e-mail newsletter today, and fill your scorecard with useful and entertaining info about your favorite ballparks, money-saving "tips of the week" for frugal fans, and of course, specials on the incredibly informative Ballpark E-Guides!
You'll also score this eBook, listing some of Kurt's favorite sites for traveling baseball fans, absolutely free of charge…just for stepping up to the plate and subscribing.
Get on base without swinging the bat…sign up today!