PNC Park Parking – Three Cheap And Smart Spots
Posted by Kurt Smith
When you're headed to a Pirates game and are searching for PNC Park parking, you have an abundance of choices, but most of the lots near the ballpark aren't cheap and/or are set aside for pre-paid parking and season ticket holders.
Fortunately, if you want to go for cheap PNC Park parking, Ballpark E-Guides has a few cool suggestions for you.
1) The Fort Duquesne and Sixth Garage. It's relatively cheap, it's the closest garage in the downtown "Point" section of the city, and you can enjoy an absolutely stunning view of a beautiful ballpark walking across the Clemente Bridge (which is closed off to vehicular traffic on game days). And you can get cheap peanuts, drinks and souvenirs from vendors right at the foot of the Bridge.
(continued below)
Own the Ultimate Insider Fan's Guide to PNC Park TODAY…
for just $4.99!

Click the image to learn more!

2) The First Avenue Garage. I discovered this one recently and noticed quite a few Pirates employees using it, so I know it's a smart choice. It's a small few bucks to park here, and you can use an elevator to get dropped off right at the platform of the First Avenue Port Authority "T" station…from which you can ride for free to North Shore, literally across the street from the PNC front gate. Low price, very little walking, and a super easy out after the game back on the highway.
3) The Rivers Casino. I've heard differing accounts on whether it costs anything to park here for a Pirates game. According to the casino's website you pay the event rate four hours before the game, but it's reimbursed to you if you dine or gamble there. But I've also heard plenty of people say they've parked for free here; I presume it would be free before the game rate kicks in.
There's nothing wrong with the walk from here, with a nice waterfront pathway that goes past several great eateries like Burgatory. But if you're tired you can hop on the free T from Allegheny Station to North Shore.
That's just three cool PNC Park parking options, but you can arrive at PNC almost any way you want…by bus, by boat, or even a bicycle!
To pick the route that's best, cheapest and most fun for you, make sure you read this handy little guide.
More About PNC Park:
Visiting PNC Park: Five Tips For Newbies
PNC Park Food: Three Things To Try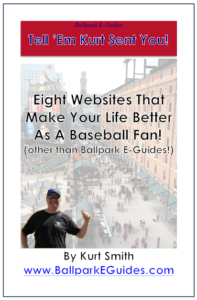 FREE eBook for traveling baseball fans! (That would be you.)

Do you love to visit ballparks and see live baseball? Subscribe to the Ballpark E-Guides e-mail newsletter today, and fill your scorecard with useful and entertaining info about your favorite ballparks, money-saving "tips of the week" for frugal fans, and of course, specials on the incredibly informative Ballpark E-Guides!
You'll also score this eBook, listing some of Kurt's favorite sites for traveling baseball fans, absolutely free of charge…just for stepping up to the plate and subscribing.
Get on base without swinging the bat…sign up today!