PNC Park Parking Tip: My Favorite Garage
Posted by Kurt Smith
There are numerous PNC Park parking lots a few steps from the ballpark on the North Shore where it is located. These are probably your best choice coming from the north. Coming from any other direction, though, you should park downtown at what is known as the "Point" in Pittsburgh.
There are plenty of lots all over the Point, and most all of them are reasonable and 5-10 minute walk to the ballpark. But the garage at Fort Duquesne and Sixth is easily the best of all of them.
The Fort Duquesne and Sixth garage is located right at the foot of the Roberto Clemente Bridge (formerly named the Sixth Street Bridge, a strong clue as to the street it connects to), which is the same big yellow bridge featured in the backdrop inside the ballpark. From this intersection, you can pick up peanuts and water for your goodie bag, and then take a stroll over the Allegheny River for a ballpark view unparalleled by any ballpark in America.
The Clemente Bridge is closed off to traffic on game days, so it's often got plenty of pedestrians. And the bridge ends and turns into Federal Street, which is also closed off on game days and will often have pre-game entertainment. The Federal Street side of the ballpark has some restaurants and outdoor dining for a pre-game meal. After the game you'll be turning your head a lot when walking back, to see the "PNC Park" letters in the outfield reflecting on the Allegheny.
It works on many levels, but the best part is unquestionably the walk across the bridge. That in itself is worth twice the cost of parking at Fort Duquesne and Sixth, which is as cheap as any lot as of this writing.
There are plenty of other lots to use downtown that are inexpensive, but unless this lot is full, don't bother going elsewhere if you want a nice walk to a ballpark. If you want to learn about the many other ways to arrive at PNC, get yourself this handy little guide.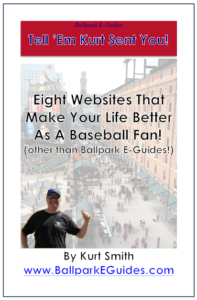 FREE PDF for traveling baseball fans! (That would be you.)

Do you love to visit ballparks and see live baseball? Subscribe to the Ballpark E-Guides e-mail newsletter today, and fill your scorecard with useful and entertaining info about your favorite ballparks, money-saving "tips of the week" for frugal fans, and of course, specials on the incredibly informative Ballpark E-Guides!
You'll also score this PDF, listing some of Kurt's favorite sites for traveling baseball fans, absolutely free of charge…just for stepping up to the plate and subscribing.
Get on base without swinging the bat…sign up today!