Citizens Bank Park Seating Tip – Stay Low
Posted by Kurt Smith
Philadelphia has a great ballpark, but when it comes to Citizens Bank Park seating, it's one of the few places where I would prefer to be in the outfield on the lower level than behind home plate in the upper level. If your funds are limited as mine often were before I made untold millions selling ballpark knowledge (joke), the lower level in right field is a good bet.
The reason for my lower level preference is that between the Hall of Fame Club seats and the suites, and the open concourse on the lower level, the upper level gets pushed up fairly high. Besides this, the angle is fairly steep, and it's definitely not for the acrophobic. If you get into the right field area past the gap, the seats are lowered somewhat, but you will be pretty far from home plate.
This is one place where you may be better off paying a few extra dollars for a lower level seat. Or, if you don't have a need to be sitting along the baselines, an outfield seat will take care of you just fine here.
The outfield seats in right field especially have several advantages. First and foremost, you're closest to Ashburn Alley and its many attractions, making it easier to tolerate the long line you will likely endure if you go for a Tony Luke's cheesesteak after the game starts.
(continued below)
Own the Ultimate Insider Fan's Guide to Citizens Bank Park TODAY…
for just $4.99!

Click the image to learn more!

Secondly, unlike the seats in left field, you don't have to turn completely around to view the big scoreboard and the impressive new Jumbotron that was recently added, although you won't be able to see the out of town scoreboard. Third, if you're in the 101 or 201 sections, you will be very close to the visiting team's bullpen, where you can rattle their pitchers. Keep it clean though, the Phillies aren't as lenient on over-the-top behavior as they used to be.
And finally, there's a chance one of those young Phillies could send a homer your way, which you can then have them autograph and send to you.
OK, so maybe that last one isn't very likely. And the outfield seats don't have a view of the skyline in right center field or of the Liberty Bell. But it may be the best bang for your buck for Citizens Bank Park seating.
That said, even the upper level seats are still good seats here, and even if you don't get the perfect seat, chances are your seat here will be good enough. Every seating area at the Bank has its own advantages (which are explained in detail in the Citizens Bank Park E-Guide), and there aren't too many really bad seats in the place.
So when looking at the Citizens Bank Park seating chart, if the choice is a lower level seat, that is usually a better bet. But there's no need to be too fussy. Most all of the seats are very good here. But you should still consult this handy little guide when it comes to seating.
More About Citizens Bank Park:
Visiting Citizens Bank Park – Five Tips For Newbies
Three Cheap Citizens Bank Park Parking Options
Five Citizens Bank Park Cheesesteaks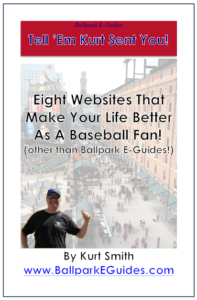 FREE eBook for traveling baseball fans! (That would be you.)

Do you love to visit ballparks and see live baseball? Subscribe to the Ballpark E-Guides e-mail newsletter today, and fill your scorecard with useful and entertaining info about your favorite ballparks, money-saving "tips of the week" for frugal fans, and of course, specials on the incredibly informative Ballpark E-Guides!
You'll also score this eBook, listing some of Kurt's favorite sites for traveling baseball fans, absolutely free of charge…just for stepping up to the plate and subscribing.
Get on base without swinging the bat…sign up today!