Citizens Bank Park Food – Three Things To Try
Posted by Kurt Smith
There is a great range of choices on the Citizens Bank Park food menu, and there is definitely a Philadelphia feel to many of them. Quite a few great local institutions are represented, and there's a long list of other stuff for your palate too.
I've talked about your cheesesteak choices here, but if you're not in the mood for chopped beef sandwiches, here are three other great grub items you can try…
Citizens Bank Park Food Tip #1: The Federal Donut. The Federal Donuts stand in the left field corner is an outpost of the local fried chicken and donuts chain that has a half dozen locations in Philly. They sell great fried chicken too, but the donuts are outstanding.
Federal Donuts uses something called a "doughnut robot" to crank out its donuts; they come out warm and crispy and there's a nice bit of a crunch to them. You can get them with your chicken (or chicken sandwich) or just get a bag of two side donuts for a reasonable price at a ballpark.
And if you want to try the actual store, you can take the Broad Street Line to the Walnut-Locust stop, where there's one just a couple blocks away.
(continued below)
Own the Ultimate Insider Fan's Guide to Citizens Bank Park TODAY…
for just $4.99!

Click the image to learn more!

Citizens Bank Park Food Tip #2: The Bull's BBQ Platter. I've never actually gotten a platter from Bull's BBQ in Ashburn Alley…it's generally for more than one person and I've never been hungry enough. But I can tell you that everything I have had from Bull's BBQ has been amazing. And that Bull Dog is a hefty piece of grilled kielbasa.
As you probably know, The Bull is Greg Luzinski, the cleanup hitter from the 1970s Phillies teams who was known for titanic shots in the pre-juice era. Like Boog in Baltimore, the Bull greets fans who patronize his BBQ.
Bull's food is cooked on a great big smoker grill, and the BBQ sauce is as good as any I've tried and is available in local Philly supermarkets. As ballpark BBQ food goes, Bull's is as good as any I've had, and yes, I've tried Boog's.
Citizens Bank Park Food Tip #3: The Alley Brewing Company Pastrami Sandwich. It's easy to miss that there's food at the Alley Brewing stand… it's mostly known for its impressive selection or craft brews on tap. But the pastrami sandwich is worth a look (I mean, look at the thing).
The pastrami sandwich is made with 5-day smoked pastrami (really…the Phillies told me this) and it's got Russian dressing slaw piled onto it in between two slices of rye. And they make it right in front of you so there's no cheating.
Alley Brewing is in the right field corner near Bull's BBQ; you'll probably want to sit at a picnic table to eat this thing. But if you're into that pastrami sandwich, this is as good as any you'll find in a ballpark.
That's just three of the impressive food choices at the home of the Phillies…without including the cheesesteaks! But there's so much more…like the South Philly Dog, the chili at Harry The K's, the Wahoo tacos, Wayback Burgers and much much more. Think ahead…and be prepared with this handy little guide to the Bank.
More About Citizens Bank Park:
Visiting Citizens Bank Park – Five Tips For Newbies
Five Citizens Bank Park Cheesesteaks
Three Cheap Citizens Bank Park Parking Options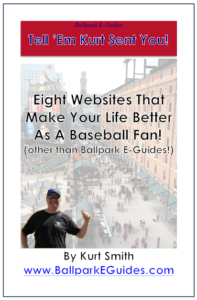 FREE eBook for traveling baseball fans! (That would be you.)

Do you love to visit ballparks and see live baseball? Subscribe to the Ballpark E-Guides e-mail newsletter today, and fill your scorecard with useful and entertaining info about your favorite ballparks, money-saving "tips of the week" for frugal fans, and of course, specials on the incredibly informative Ballpark E-Guides!
You'll also score this eBook, listing some of Kurt's favorite sites for traveling baseball fans, absolutely free of charge…just for stepping up to the plate and subscribing.
Get on base without swinging the bat…sign up today!