Best Way To Get To Citi Field – The LIRR
Posted by Kurt Smith
In the past I recommended the 7 train to get to Citi Field, but most people wouldn't argue that the 7 train doesn't offer the smoothest ride or the most pleasant scenery. It's not as bad as John Rocker once said, but it does stop a lot and moves fairly slowly.
After reading a few glowing opinions of people who had taken the Long Island Rail Road to a Mets game, I gave it a try after my last visit to Citi Field; hopping on after the game to get back to Penn Station.
I agree with the rest: I will never go back to the 7.
Yes, the LIRR costs a few bucks more; the ride is $8 at peak times (although I'm not sure yet what qualifies as peak time, since the train only stops at Citi Field on game days) and $6 at other times; I'm pretty sure I paid the $6 in my trip. The 7 to Penn Station is $2.75 as of this writing.
If you land the $6 fare especially, it is very worth it for two reasons.
The first is seat comfort. These are long commuter trains and being the more expensive of the two will see fewer passengers, so you are far more likely to land a seat on the LIRR. And the seats are larger and much more comfortable.
The second is speed. Only two stops on the way back to Penn Station (where I arrive from NJ Transit), as opposed to thirteen if you use the 7-E combination. Not to mention avoiding a transfer…and a wait for another train. The 7 Line has a Mets Express with fewer stops, but you can't transfer to the E from it—this requires a transfer to the 1, 2, or 3 or a walk from Times Square.
The ride takes about 35 minutes as opposed to 15 for the LIRR, but that is a world of difference. 35 minutes standing on a screechy train seems like much more than twice the time when sitting on a quieter train.
Coming from New Jersey or Manhattan at least, I recommend the 7 if you're thrifty and definitely recommend it over driving to Citi Field. But if you are willing to pay a few extra bucks to not have to use a railing to balance your momentum 13 times, use the LIRR. It's well worth the extra few bucks.
And if you want to know about getting to Citi Field from different directions, try getting yourself one of these.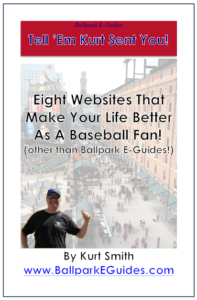 FREE PDF for traveling baseball fans! (That would be you.)

Do you love to visit ballparks and see live baseball? Subscribe to the Ballpark E-Guides e-mail newsletter today, and fill your scorecard with useful and entertaining info about your favorite ballparks, money-saving "tips of the week" for frugal fans, and of course, specials on the incredibly informative Ballpark E-Guides!
You'll also score this PDF, listing some of Kurt's favorite sites for traveling baseball fans, absolutely free of charge…just for stepping up to the plate and subscribing.
Get on base without swinging the bat…sign up today!