Miller Park Food – Three Things To Try
Posted by Kurt Smith
If you somehow manage to pass through the Miller Park tailgating and still have room in your stomach, there is still an outstanding selection of Miller Park food too. Most anything you'd be interested in eating at the ballgame, and possibly a few things you'd never want to eat at a ballpark, is available here.
The bratwurst culture is huge in Wisconsin and Miller Park is no exception; you know sausages are popular in a ballpark where people in sausage costumes race in the sixth inning of every game. But other than as an ingredient in the "bratchos", I'm going to suggest a few alternatives, because not even I can live by brats alone:
Miller Park Food, Tip #1: The AJ Bombers Burger. Any burger joint that wants to differentiate themselves from McDonald's is going to mention that their burgers are "fresh", and AJ Bombers, the eatery with an outpost at Miller, is no exception.
But there is something to be said for that; an AJ Bomber's burger is the right kind of juicy, with toppings ranging from bacon, cheese, Schlitz onions and peanut butter. (Yes, you read that right.)
You have to wait a bit for an AJ's burger, and there's no view of the ballgame from here, so get your fix taken care of before game time…and wash it down with a concrete.
(continued below)
Own the Ultimate Insider Fan's Guide to Miller Park TODAY…
for just $4.99!

Click the image to learn more!

Miller Park Food, Tip #2: Bratchos. My apologies for not getting a picture of the bratchos. I couldn't find a basket on display, and I couldn't order one after the AJ Bombers burger and a plate of Rounding Third wings.
But the bratchos are not to be passed up on otherwise. It's new at Miller as of 2015…and new as a food item that I've ever seen. Bratchos are kettle chips covered with four kinds of crumbled sausage (chorizo, Italian, Polish, and bratwurst, the staples at Brewers games), cheese sauce, sour cream, jalapenos, and sauerkraut.
It's pretty much like a mishmash of a loaded brat with chips, but I've never seen them combined before. As professional eaters say when eating odd foods together, it all ends up in the same place anyway.
Miller Park Food, Tip #3: The Holey Moley Doughnut Sandwich. As if sausage nachos weren't enough to surprise, Miller also has added a Holey Moley stand, for the local craft doughnut shop that peddles scratch doughnuts.
Holey Moley had four custard doughnut sandwich offerings in my visit…there was a "Peanut Butter Jelly Time" – custard, blueberry preserves and peanut butter drizzle; "Hella Nutella" – Nutella, bananas and hazelnuts; and the "P-Can Sam" – pecan pie pieces, caramel, and pecans; and finally the inimitable "Goober Jobber" – custard, pretzels, salted caramel and peanut butter.
By all accounts I've read, all are delicious. And these dessert sandwiches are actually pretty reasonably priced for a ballpark. Just make sure you have some room, it ain't Jello.
Those are three unusual and tasty stuffs on the Miller Park food menu, but there's a lot more, like the Nachos on a Stick, the Smoke Shack Ham Dinger, and the inimitable Zaffiro's pizza. Be sure to plan ahead…
More About Miller Park:
Visiting Miller Park – Five Tips For Newbies
Miller Park Tailgating: Five Useful Tips
The Secret Stadium Sauce at Miller Park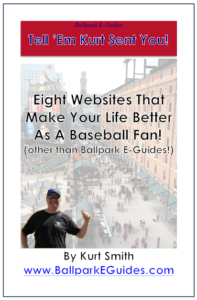 FREE eBook for traveling baseball fans! (That would be you.)

Do you love to visit ballparks and see live baseball? Subscribe to the Ballpark E-Guides e-mail newsletter today, and fill your scorecard with useful and entertaining info about your favorite ballparks, money-saving "tips of the week" for frugal fans, and of course, specials on the incredibly informative Ballpark E-Guides!
You'll also score this eBook, listing some of Kurt's favorite sites for traveling baseball fans, absolutely free of charge…just for stepping up to the plate and subscribing.
Get on base without swinging the bat…sign up today!
Save
Save