Get To Progressive Field – Take The "RTA" Train
Posted by Kurt Smith
It's easy enough to get to Progressive Field by car, at least when there isn't a mammoth construction going on as there has been recently. The Prog is in the heart of downtown Cleveland, and there are three interstates with exits dropping one off right at the ballpark, and ample parking can be had in any direction.
When I'm in Cleveland though, at least traveling solo, I prefer finding a park-and-ride on Cleveland's RTA Rapid Transit, and taking a train to the ballpark for several reasons:
– RTA trains are inexpensive; you might be able to get a good deal on parking at the ballpark, but you will use some gas getting there, and the RTA gives day passes relatively cheap. Most park-and-rides do not charge anything to use their lots. You can get to Progressive Field very cheaply with RTA.
(continued below)
Own the Ultimate Insider Fan's Guide to Progressive Field TODAY…
for just $4.99!

Click the image to learn more!

– RTA trains are surprisingly comfortable, more so than any other big city public transit trains that I've ridden, anyway. The seats are large and padded, and the view isn't bad on the way, especially approaching Tower City and downtown Cleveland.
– The RTA drops riders off at the Tower City Center, which is sort of a small mall. From Tower City there is a covered walkway that is about a quarter of a mile to the Quicken Loans Arena (the "Q") and Progressive Field right next door.
This last is a nice reason; Tower City has shops and restaurants including a Hard Rock Café (and the big guitar there is really cool); you can have a decent meal before or after the game or you can find goodies to put in your bag for the ballpark. The walkway is open for about 90 minutes after the last out, so you have plenty of time to use the walkway after the game. You can still get to the train station without the walkway, you just won't be protected from the elements.
Again, it isn't difficult to drive to the ballpark, but I prefer avoiding the pre- and post-game traffic around the ballpark, and RTA is well-suited for getting you to the Indians game.
Of course there are other ways to get to Progressive Field…like the HealthLine, the Flat Iron shuttle, or just driving your car…you can learn about them all with one of these.
More About Progressive Field:
Visiting Progressive Field – Five Tips For Newbies
Progressive Field Parking – Three Swell Spots
Three Foods To Try At Progressive Field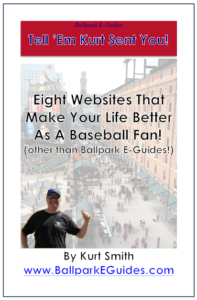 FREE eBook for traveling baseball fans! (That would be you.)

Do you love to visit ballparks and see live baseball? Subscribe to the Ballpark E-Guides e-mail newsletter today, and fill your scorecard with useful and entertaining info about your favorite ballparks, money-saving "tips of the week" for frugal fans, and of course, specials on the incredibly informative Ballpark E-Guides!
You'll also score this eBook, listing some of Kurt's favorite sites for traveling baseball fans, absolutely free of charge…just for stepping up to the plate and subscribing.
Get on base without swinging the bat…sign up today!