Three Extra Progressive Field Tips
Posted by Kurt Smith
Well, I hope I've offered some helpful Progressive Field tips on this site for your next visit. It's nice to know all of your transportation options and about the Barrio nachos. Here are a few extra things to be aware of in your visit:
Extra Progressive Field Tips, #1: Heritage Park. The Indians may not have won a world championship in a long time, but when you go to see Heritage Field in the left center field area, you realize that this team has had some great players through the years.
There's dedications to the top 100 Indians as chosen in the 100th anniversary celebration, great moments in Cleveland baseball through the years, even a plaque dedicated to shortstop Ray Chapman, who was killed by a pitched baseball in 1920. Heritage Park also has bricks dedicated by Tribe fans.
Heritage Park is nicely laid out, making it easy to see all of the exhibits. For big games it can get crowded, so you should check it out early if you can.
(continued below)
Own the Ultimate Insider Fan's Guide to Progressive Field TODAY…
for just $4.99!

Click the image to learn more!

Extra Progressive Field Tips, #2: The Sugardale Hot Dog Races. Now that the Brewers, Nationals, and Braves all have racing mascots, the Indians have followed up with mascots of Sugardale hot dogs, the official dog of the Indians.
But rather than dressing up as different kinds of dogs, the Sugardale mascots differ only in the condiment that covers them. On the Indians website they've given them different personalities: Ketchup wins a lot but cheats to do so; Mustard is the clean cut hero; and Onion is the "diva" that has a crush on Mustard—much to the chagrin of Ketchup.
Maybe not original, but a fun twist on the Brewers' Sausage Races. During the game, the mascots greet fans in the concourse areas.
Extra Progressive Field Tips, #3: John Adams, The Drummer. He's been the Indians drummer for many years and almost never misses a game; you can hear the drum pounding during rallies or other key points in the game. It would be hard to find a fan willing to sit for every game in the top row of the bleachers…arguably the worst seats in the ballpark…but Adams doesn't mind. He and his drum both have season tickets, courtesy of the Indians who like his style.
Adams looks serious when pounding the skins, but he's a very friendly guy, and he spends much of the game posing with fans for photos and talking baseball with them. If you get a chance, go meet him. People like John Adams make baseball great.
There's much more to know when visiting Progressive Field…especially when it comes to saving money. Be sure to get prepared with one of these.
More About Progressive Field:
Visiting Progressive Field – Five Tips For Newbies
Three Foods To Try At Progressive Field
Progressive Field Parking – Three Swell Spots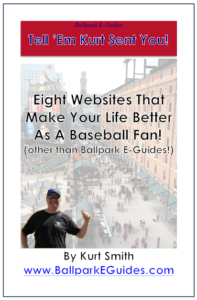 FREE eBook for traveling baseball fans! (That would be you.)

Do you love to visit ballparks and see live baseball? Subscribe to the Ballpark E-Guides e-mail newsletter today, and fill your scorecard with useful and entertaining info about your favorite ballparks, money-saving "tips of the week" for frugal fans, and of course, specials on the incredibly informative Ballpark E-Guides!
You'll also score this eBook, listing some of Kurt's favorite sites for traveling baseball fans, absolutely free of charge…just for stepping up to the plate and subscribing.
Get on base without swinging the bat…sign up today!