Progressive Field Food – Three Things To Try
Posted by Kurt Smith
Until recently, the Progressive Field food menu hadn't been populated with local icons. But as of 2015 the Indians started to recognize the city's best food purveyors in the Right Field District…and the Indians game experience is much better for it. They've since added even more local icons to the ballpark…you can read about them here.
Here are just three items worth trying on the fantastic Prog menu these days…
Progressive Field Food Tip #1: Melt Chorizo and Potato Grilled Cheese. Come on man. Chorizo sausage with potato hash and cheddar cheese in a sandwich! Man food, but of course women love it too.
The Melt stand in the Right Field District is based on the local chain of grilled cheese sandwich shops in Cleveland, and they're popular not just because of those wacky ingredients but also for that thick bread they pile them on.
The Cleveland Plain Dealer pronounced Melt as a place where "you don't go to watch your calories". Bonus at the ballpark: you'll be walking them off anyway, so go ahead and have a Melt grilled cheese.
(continued below)
Own the Ultimate Insider Fan's Guide to Progressive Field TODAY…
for just $4.99!

Click the image to learn more!

Progressive Field Food Tip #2: Dynomite Burger. Yes, it's named for Jimmie Walker's signature phrase on the TV show "Good Times", and yes, you're dating yourself if you're familiar with it.
But it's not a bad exclamation for a fresh burger in any of several styles…like the "Parallax" (white cheddar, bacon, BBQ mayo and red onion), or the "Chinato" (Mortadella, tomato, red onions and tomato mayo). There are other places to get a perfectly adequate burger here, but this is the high end stuff. Look at those toppings.
Dynomite Burgers are a creation of chef Zack Bruell, who by day is a chef for five fine dining restaurants in Cleveland. And yes, it was his idea to use Jimmie Walker's catchphrase.
Progressive Field Food Tip #3: Barrio Nachos. Barrio is one of the popular local joints that are all over the place in Progressive Field now; they're mostly known for tacos and nachos. And they make an impressive plate of nachos.
This particular special features chorizo sausage, green salsa, several types of cheeses and cheese sauce, everything that takes nachos beyond mediocrity, which isn't easy to do at a ballpark where too many people stay safe with the simple chips and Whiz glop. Barrio gets bold.
This plate, by the way, is easily enough for two people, and the price isn't bad for a ballpark. Share and save some room for the other great stuff here.
That's just three selections at Progressive Field food; the place is full of great Cleveland eateries like Barrio, Sweet Moses, Great Lakes Brewing and a fine selection of craft brews too. Read about the menu beforehand and think ahead.
More About Progressive Field:
Visiting Progressive Field – Five Tips For Newbies
Bertman's Ballpark Mustard – The Real Deal
Progressive Field Parking – Three Swell Spots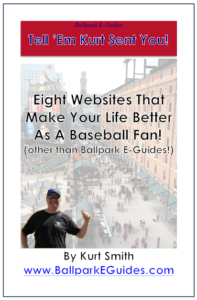 FREE eBook for traveling baseball fans! (That would be you.)

Do you love to visit ballparks and see live baseball? Subscribe to the Ballpark E-Guides e-mail newsletter today, and fill your scorecard with useful and entertaining info about your favorite ballparks, money-saving "tips of the week" for frugal fans, and of course, specials on the incredibly informative Ballpark E-Guides!
You'll also score this eBook, listing some of Kurt's favorite sites for traveling baseball fans, absolutely free of charge…just for stepping up to the plate and subscribing.
Get on base without swinging the bat…sign up today!