Visiting Great American Ball Park – Five Tips For Newbies
Posted by Kurt Smith
If you're visiting Great American Ball Park in Cincinnati for the first time, there are a few things you should probably know before you go. Great American is a terrific, and underrated ballpark experience, so make sure you get the most out of it…
Visiting Great American Ball Park Tip #1: Check for ticket deals. Not just through the Reds website, although they definitely have some great offers and you should sign up for team e-mail alerts. But sites like Cincinnati USA, Groupon, etc. also offer discounted Reds tickets. You can get that District ticket with the free drink or get half-price tickets for the kids if you search a little bit.
Visiting Great American Ball Park Tip #2: Be prepared in the outfield seating. If you're sitting in the bleachers in left field or the Sun & Moon Deck in right field, you will be completely unprotected from the sun during the day, and when you add the concrete and white steel to the Cincinnati heat, it can be rough. Have sunglasses and sunscreen, and take advantage of the misters that the Reds set up near the home run towers. Probably a good idea to bring a cushion for those metal bleachers seats too. You'll thank me.
(continued below)
Own the Ultimate Insider Fan's Guide to Great American Ball Park TODAY…
for just $4.99!

Click the image to learn more!

Visiting Great American Ball Park Tip #3: Try parking in Newport. You can park in the Newport-On-The-Levee entertainment complex very cheaply, especially if you're early, and from there you have several choices to get to the ballpark…the long but picturesque walk across the Purple People Bridge, the inexpensive Southbank Shuttle, or the ferry boats coming from the Hooters and other restaurants on the pier. Great for a fun outing, and there's plenty to do in Newport-On-The-Levee for kids of all ages.
Visiting Great American Ball Park Tip #4: Enjoy a meal in the Machine Room. There are plenty of great food choices in Great American like the Skyline chili cheese Coney, the Penn Station subs and the Frisch's Big Boy burgers, but those are all local chains and you can enjoy them more cheaply at the actual restaurants in town. Instead, try the restaurant in the upper left field corner…you may get a table with a great view, and you can get some crazy and messy loaded fries. Remember what I said about arriving early? The Machine Room is another pretty good reason.
Visiting Great American Ball Park Tip #5: See the Reds Hall of Fame. It's great to visit any team's Hall, but the Reds Hall may be the best of them. You can see a short film of the team's history, where you'll learn how Cincinnati was the home of the first professional baseball team (which is now technically the Red Sox, but the city still has great baseball roots) and you can see displays like the 4,256 baseballs for Pete Rose hits and a model of old Crosley Field. Not to mention the Reds Hall itself, which will probably be the only baseball Hall to include Charlie Hustle.
That's a few essential tips for visiting Great American, but there's a lot to know about Cincinnati's terrific ballpark…like the post-game scene, the excellent kids play area and the great food at Mr. Red's Smokehouse. If you want to know more about the true Great American Ball Park experience, be sure to get yourself one of these.
More About Great American Ball Park:
Three Smart Great American Ball Park Parking Spots
Three Foods To Try at Great American Ball Park
A Cheap Reds Ticket – And More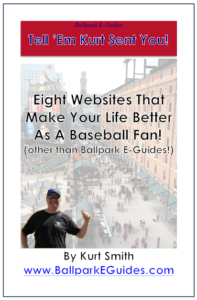 FREE eBook for traveling baseball fans! (That would be you.)

Do you love to visit ballparks and see live baseball? Subscribe to the Ballpark E-Guides e-mail newsletter today, and fill your scorecard with useful and entertaining info about your favorite ballparks, money-saving "tips of the week" for frugal fans, and of course, specials on the incredibly informative Ballpark E-Guides!
You'll also score this eBook, listing some of Kurt's favorite sites for traveling baseball fans, absolutely free of charge…just for stepping up to the plate and subscribing.
Get on base without swinging the bat…sign up today!
Save
Want to save money on baseball tickets, parking and everything else?
If you go to baseball games, you're going to spend money…on tickets, parking, food and souvenirs, not to mention hotels and travel expenses if you're going on a baseball road trip.
I'm here to help…check out my Fan Resources page, where I share some of my favorite recommendations for buying tickets, booking baseball parking and saving on travel expenses.
Legal bit: My Fan Resources page contains affiliate links, so you can support this great website while making smart baseball decisions!