Great American Ball Park Seating – The Gap
Posted by Kurt Smith
The Great American Ball Park seating bowl features a pretty neat idea that some newer ballparks have quietly adopted – the Gap.
When Great American was built, budget constraints kept the designers from putting in big riverboats or exploding scoreboards, so they came up with a clever way to introduce a quirk to the ballpark.
The Gap is a section of seating between home and third base that was left open; there is an opening there that is a decent standing room spot on the upper level especially.
I've read that the Gap allows people to watch the game from Sycamore Street, but honestly I don't know how that's possible, unless there is a spot just outside the ballpark that I missed.
The other stated purpose of the Gap was to bring the upper level seats on the third base side closer to home plate. That isn't quite the case either, well, not exactly.
(continued below)
Own the Ultimate Insider Fan's Guide to Great American Ball Park TODAY…
for just $4.99!

Click the image to learn more!

What the Gap does do is enable larger sections of 400 level seats. These are called "View Box" seats on the first base side of the Gap, and those sections have about five rows, while on the third base side they are called "Mezzanine" but still are numbered with 400 section numbers. The sections on the third base side have 17-18 rows in them.
So yes, it does bring the seats closer to the action; the Mezzanine seats are about at the same level as the Club seating on the first base side. But it doesn't actually bring the cheapest seats closer to the field, not noticeably so anyway. The Mezzanine seating costs as much as the View Box, sometimes a couple bucks more or less depending on the Reds' dynamic pricing.
Not saying that this is a bad thing, not at all. The Gap provides a nice little opening to walk past and it's actually pretty neat how the designers of the ballpark created larger 400 level sections. Yes, it costs a few dollars more, but they're mezzanine level seats as opposed to upper box, and the seats have a good perspective of everything.
Great American Ball Park is one of the most functionally fan-friendly ballparks in baseball, in my opinion, and one of the reasons is the view from most of the seats in the ballpark. In most places the upper rows on the third base side wouldn't be great; at Great American you have some better choices. Choose wisely…read one of these first.
More About Great American Ball Park:
Visiting Great American Ball Park – Five Tips For Newbies
Three Smart Great American Ball Park Parking Spots
Three Foods To Try at Great American Ball Park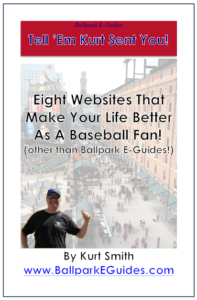 FREE eBook for traveling baseball fans! (That would be you.)

Do you love to visit ballparks and see live baseball? Subscribe to the Ballpark E-Guides e-mail newsletter today, and fill your scorecard with useful and entertaining info about your favorite ballparks, money-saving "tips of the week" for frugal fans, and of course, specials on the incredibly informative Ballpark E-Guides!
You'll also score this eBook, listing some of Kurt's favorite sites for traveling baseball fans, absolutely free of charge…just for stepping up to the plate and subscribing.
Get on base without swinging the bat…sign up today!
Want to save money on baseball tickets, parking and everything else?
If you go to baseball games, you're going to spend money…on tickets, parking, food and souvenirs, not to mention hotels and travel expenses if you're going on a baseball road trip.
I'm here to help…check out my Fan Resources page, where I share some of my favorite recommendations for buying tickets, booking baseball parking and saving on travel expenses.
Legal bit: My Fan Resources page contains affiliate links, so you can support this great website while making smart baseball decisions!