Three Extra Wrigley Field Tips For Visitors
Posted by Kurt Smith
Hope you've had a chance to read some of the Wrigley Field tips offered here…never hurts to know how to do the bleachers. Here are a few other things you should pay attention to at the Friendly Confines.
Extra Wrigley Field Tips, #1: The 7th Inning Stretch. Nowhere is "Take Me Out To The Ballgame" sung with as much energy as it is at Wrigley Field, where a different celebrity leads the crowd for every game since the death of longtime Cubs announcer Harry Caray. Not that you're likely to miss it, of course. But you won't be able to help join in with everyone as they "Root root root for the Cubbies". And who knows, you may witness a Jeff Gordon moment.
Are You Spending $312.32* For One Cubs Game?
*Average cost for a family of four in 2016.

You can do better. Click the image to find out how.
Extra Wrigley Field Tips, #2: The Organist. Organists have been a part of baseball for a long, long time, so it isn't unusual to hear one even in modern ballparks. But at Wrigley, listen closely—the organist often will play humorous songs with titles that match a player's name, or something appropriate for something that just happened on the diamond. During my last trip, an outfielder made a catch after a long run, prompting the Jackson 5's "I'll Be There" to be played on the organ.
Extra Wrigley Field Tips, #3: The Bucket Bangers. I don't know exactly where the bucket banging kids hang out after the game (I think it is near the corner of Addison and Sheffield), but you'll hear them in any direction. These kids are extremely talented and entertaining, and I don't doubt that they pull down a nice chunk of change on game days. The kids are as much a part of Wrigleyville as T-shirt vendors, and are worth whatever they make in entertainment value.
I didn't see the bucket bangers in my last visit to Wrigley, but I'm leaving this just in case.
And of course, you won't want to leave directly after the game, with so many places to pick up a souvenir, have a meal or dance to celebrate a Cubs victory. Wrigleyville is a "Don't Miss It" in itself. Find out more about it with this insightful guide.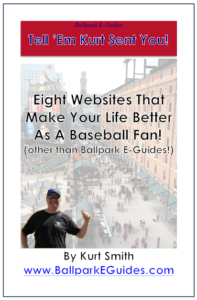 FREE PDF for traveling baseball fans! (That would be you.)

Do you love to visit ballparks and see live baseball? Subscribe to the Ballpark E-Guides e-mail newsletter today, and fill your scorecard with useful and entertaining info about your favorite ballparks, money-saving "tips of the week" for frugal fans, and of course, specials on the incredibly informative Ballpark E-Guides!
You'll also score this PDF, listing some of Kurt's favorite sites for traveling baseball fans, absolutely free of charge…just for stepping up to the plate and subscribing.
Get on base without swinging the bat…sign up today!