How To Get To Wrigley Field – Three Cheap Routes
Posted by Kurt Smith
Most fans know the basics of how to get to Wrigley Field…use the Red Line El, get off at Addison, etc. Which works just fine. With Wrigley not close to any interstates, and in the heart of a neighborhood, driving and parking can be difficult…and rough on your wallet. So as a public service to baseball fans visiting the Friendly Confines, I've included three other cool and cheap ways to get to Wrigley Field.
Get To Wrigley Field, Cheap Route #1: The Blue Line and #80 Bus. CTA Rail's Red Line is among the most common, but the Blue Line is a more attractive option if you're visiting Chicago. It extends from the heart of the city to O'Hare International Airport, where hotels in the area won't charge you for parking and can sometimes shuttle you to the O'Hare Station. Like the Red Line, it runs all day and night, so there's no need to hustle to a station after extra innings.
The Cubs will tell you that you can take the #152 Addison Street bus from the Addison Station on the Blue Line (which is not the same as the Addison Station on the Red Line). Which you can. But this is a popular route, and the bus can get heavy with Cubs fans. Addison Street is only two lanes, too, as opposed to four on Irving Park Road on which the #80 travels.
The #80 will get you to the corner of Irving Park Road and Clark Street, and then it's a short four block walk to Wrigley. The walk is another reason I prefer the #80—you'll pass by some great and inexpensive takeout joints, like Wrigleysville Dogs and Nuts on Clark.
(continued below)
Are You Spending $312.32* For One Cubs Game?
*Average cost for a family of four in 2016.

You can do better. Click the image to find out how.
Get To Wrigley Field, Cheap Route #2: The Cubs' Own Free Shuttle. The free shuttle for night and weekend games to the ballpark used to run from DeVry University and cost $6 a carload; even that was a great deal. But now the bus runs from the lot at 3900 Rockwell Street, and it costs only the gas to get there.
As the Cubs state, the lot is just east of the Chicago River, so if you're coming from the west on Irving Park Road and you cross a slight bridge to go over a river you know you've gone too far. The lot is large enough to hold enough cars on most nights, and last I checked there are even some port-a-pots. Best of all, the bus will be full of happy Cubs fans on their way to their second home.
The Cubs say that tailgating is permitted in all lots, which I presume would include this one. Just be sure to hit that port-a-pot and reset the clock before you get on the bus!
Get To Wrigley Field, Cheap Route #3: The Pace Wrigley Field Express. I haven't yet used Pace to get to Wrigley Field, but I have tried the U.S. Cellular Field Express (which I guess now would be the Guaranteed Rate Field Express) to get to a White Sox game, and I loved it for several reasons.
Pace is an inexpensive suburban bus service, and they run separate routes to both ballparks in Chicago. For Wrigley riders can grab a bus in Schaumburg or Lombard to Wrigley for just $4 each way, and parking at either pickup point is free.
The bus saves you the considerable hassle of navigating the Chicago streets to the ballpark or even to a CTA station, it costs less than you'd probably spend in gas getting there, and like the bus from the remote lot, it's full of happy Cubs fans. I had great baseball conversations with the people on the U.S. Cellular Express; if you like talking baseball with strangers the Pace Express buses are for you. And free parking!
Of course, there are many more ways to get to the Friendly Confines…like the venerable Red Line, the Skokie Swift, Metra Rail and driving and parking for you brave souls. Know what you're doing going to Wrigley with one of these.
More About Wrigley Field:
Visiting Wrigley Field – Five Tips For Newbies
Wrigley Field Advance Parking – CubParking
Three Foods To Try at Wrigley Field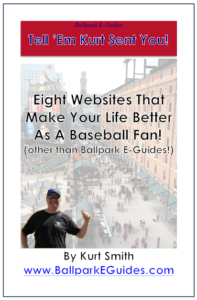 FREE PDF for traveling baseball fans! (That would be you.)

Do you love to visit ballparks and see live baseball? Subscribe to the Ballpark E-Guides e-mail newsletter today, and fill your scorecard with useful and entertaining info about your favorite ballparks, money-saving "tips of the week" for frugal fans, and of course, specials on the incredibly informative Ballpark E-Guides!
You'll also score this PDF, listing some of Kurt's favorite sites for traveling baseball fans, absolutely free of charge…just for stepping up to the plate and subscribing.
Get on base without swinging the bat…sign up today!
Save