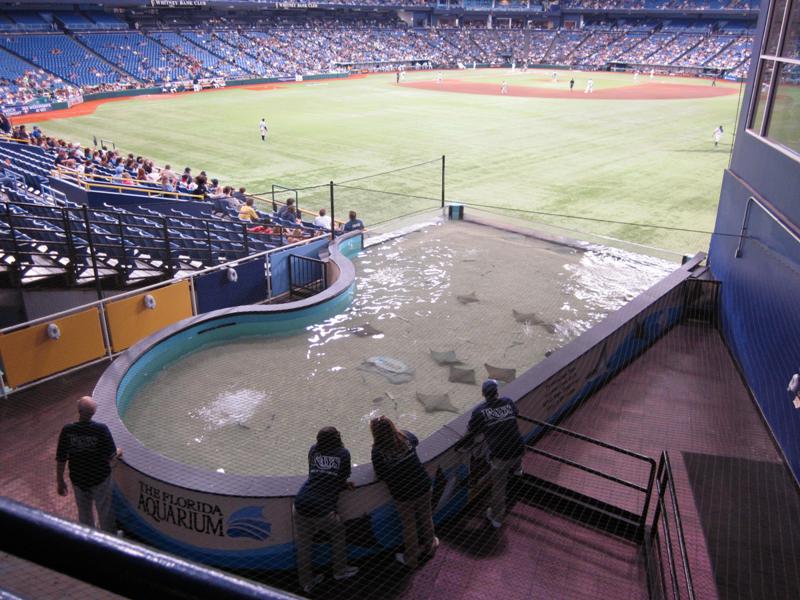 Thanks for visiting the Tampa Bay Rays Ballpark E-Guides page! We hope that you find out some cool things you didn't know about Tropicana Field while you're here…and if you do, there's plenty more where that came from!
The Tampa Bay Rays ballpark may not be among the most popular of ballpark destinations, but it's got a whole lot of cool things going for it…like knowing that a game will be played, for one, despite the heat, humidity, and almost daily thunderstorms that make for typical Florida weather. It's not such a bad thing to be indoors on a typical July day in St. Petersburg. Add to that very affordable tickets, beautifully painted concourses, lots of party areas and a rays tank where kids can feed and touch slimy rays, and a Rays game is an affordable and fun outing for all.
The next time you're planning to visit the Tampa Bay Rays ballpark, Ballpark E-Guides has you covered…we'll tell you how to get cheap Rays tickets, how to find seats at Tropicana Field that suit your taste and budget, how to get to Tropicana Field as cheaply and painlessly as possible, and what to eat when visiting the Tampa Bay Rays ballpark. You'll learn all sorts of great tips that only veterans of Tropicana Field know!
Have a look below at some helpful tips for visiting Tropicana Field, the Tampa Bay Rays ballpark…like getting tickets, where to sit, the best way to get there and what to eat. And congrats on being a super-smart baseball fan!
Save
Save