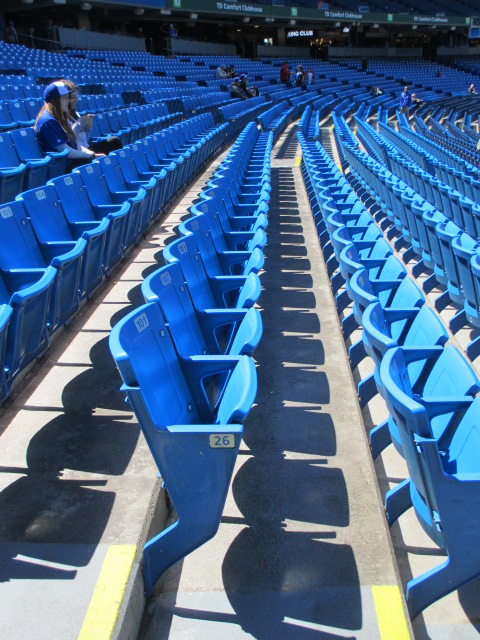 Rogers Centre in Toronto is an example of city lifting a ballpark, rather than the other way around.
As state of the art as it was when Rogers Centre…then SkyDome…opened, it's become a dated feeling venue today. But Rogers Centre was groundbreaking for many features that are commonplace in ballparks today.
Most of all was Rogers Centre's greatest innovation, the retractable roof. Following the Blue Jays' 1977 debut in a snowstorm, the team and city constructed a baseball venue that made baseball possible anytime. No matter what the weather, a game will be played, and it will be outside if it's nice enough.
Rogers has as perfect a location as any in baseball…just at the waterfront of Lake Ontario, in the heart of the city just next to Union Station, making it public transit accessible from all directions and in the heart of a great city's nightlife.
It may not be intimate or retro as Camden Yards or PNC Park, but Rogers Centre's location works, and the designers deserve credit for some great innovations that are standard today.
Check out some great Rogers Centre Tips Below!!
Love this website? Please support our sponsors!
For cheap baseball tickets, TickPick rocks! (GET $10 OFF your first purchase with e-mail signup!):


For cheaper and prepaid baseball game parking…use SpotHero!

Find great deals on official MLB gear before you go to the ballpark, at MLBShop.com!

For amazing deals on hotels, flights and rental cars, try Hotwire!