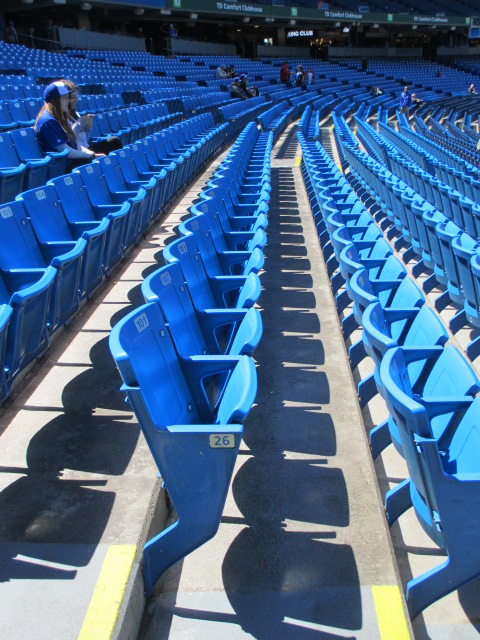 Rogers Centre in Toronto is an example of city lifting a ballpark, rather than the other way around.
As state of the art as it was when Rogers Centre…then SkyDome…opened, it's become a dated feeling venue today. It's a round, concrete dome that still features that great baseball sin of artificial turf, and it's known for being one of those multipurpose venues that baseball moved away from years ago.
But Rogers Centre was groundbreaking for many features that are commonplace in ballparks today. For a ballpark to feature a Hard Rock Café was highly unusual, but most every ballpark has a sit down restaurant or two with a view attached these days. SkyDome also sported 18 McDonald's restaurants, departing from the traditional dogs and ice cream that were the constants at every baseball venue.
Not to mention Rogers Centre's greatest innovation, one that is now in five other major league ballparks: the retractable roof. Following the Blue Jays' 1977 debut in a snowstorm, the team and city constructed a baseball venue that completed the dream that didn't work in Montreal. No matter what the weather…which is plenty erratic in Toronto…a game will be played, and it will be outside if it's nice enough.
And Rogers has as perfect a location as any in baseball, so long as you don't drive there…just at the waterfront of Lake Ontario, in the heart of the city just next to Union Station, making it public transit accessible from all directions and in the heart of a great city's nightlife. Rogers Centre is surrounded by a bunch of food carts hawking hefty hot dogs, and one doesn't have to walk far to find some of the best food trucks in the city.
It may not be intimate or retro as Camden Yards or PNC Park, but Rogers Centre's location works, and the designers deserve credit for some great innovations that are standard today.
Still waiting for someone to pick up on that ballpark hotel idea though.