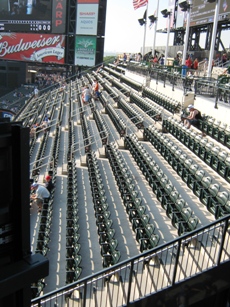 The owners of the New York Mets got some grief for constructing Citi Field to look like the home of the Brooklyn Dodgers, but it turned out pretty well.
As fans arrive on those ubiquitous 7 train cars, the first feature of Citi Field to come into view is the Ebbets-inspired front gate…which opens into the Jackie Robinson Rotunda, an impressive monument to the most groundbreaking ballplayer in history. Robinson was never a Met, but he did play in New York and in the National League. Close enough for the Mets to honor him.
And the Mets did respond to complaints that the ballpark did little to showcase the home team…a Mets Hall of Fame with the team's two World Series trophies was added, as were representations of great Mets moments at each gate. The outfield fence was painted in the team's colors to go along with the orange foul poles unique to Mets baseball. All of this helped soften the blow that losing Shea Stadium was to the Mets faithful.
This aside, it's a pretty appealing structure, with a beautiful brick façade and striking dark green seats to go along with those massive video boards. The Mets added quirky dimensions, special seating areas, and the "Pepsi Porch" (now the Coca-Cola Corner) in right field, a place for the bleachers sorts to gather. Citi Field has so many clubs and restaurants that there is a large and confusing chart on the website that lists the clubs to which your ticket grants you access.
Last but not least, Citi Field may have the most diversified menu of gourmet food in baseball. There's the inimitable Shake Shack and its two-inning lines, the garlic parmesan fries from Box Frites, the seafood sandwiches from Catch of The Day, the hefty subs from Mama's of Corona, and that spicy chicken sandwich from Fuku. That's just scratching the surface…there are plenty of high end alternatives to the already established Nathan's dogs and Pat LaFrieda burgers that are all around the ballpark.
At Citi Field, you can enjoy a great baseball history lesson, a delicious sandwich, and a team with some pretty good pitching.
Save