Three Ways To Score Cheap Tigers Tickets
Posted by Kurt Smith
The Detroit Tigers are a pretty wallet and family friendly team by baseball standards. There are quite a few ways to score cheap Tigers tickets and enjoy an affordable game at Comerica Park.
Here are just three recommendations courtesy of Ballpark E-Guides:
Cheap Tigers Tickets, Tip #1) Join The Club. The Tigers have two team fan clubs, one for adults and one for kids. Membership in the fan clubs includes some gear and a newsletter with discounted ticket offers. If you're flexible about which games you can attend, the discounts will probably be worth the cost of membership, and you get some cool gear too.
Cheap Tigers Tickets, Tip #2) Use Your Comerica Card. If you have an account with Comerica Bank, you can use it to get discounts on tickets and club memberships, and you can also use it for access to parties at Cheli's Bar across the street, if that matters to you. The Tigers will even let you use a separate, line-free entrance.
(continued below)
Own the Ultimate Insider Fan's Guide to Comerica Park TODAY…
for just $4.99!

Click the image to learn more!

Cheap Tigers Tickets, Tip #3) Get Your Monthly Pass. If you can make it to six or seven games in a month's time…even in July…the Tigers offer a monthly pass for your smartphone that allows you to go to every game that month. Great for savings, say, when the Yankees or another divisional rival is in town…see the whole series at an affordable price. The Tigers will let you upgrade your seats on occasion too.
Cheap Tigers Tickets, Tip #4) Bonus Tip: Try SeatGeek. My friends at SeatGeek are my favorite third party source for Tigers tickets, and that's why they're a Ballpark E-Guides affiliate. Before you search on the team website or StubHub, try checking out SeatGeek for deals on Tigers tickets.
There's three helpful tips (+1!) for landing some cheap tickets for a game at beautiful Comerica Park in Detroit. If you'd like to know other ways to save money on tickets, food and parking at Tigers games, try reading this handy and inexpensive guide.
More About Comerica Park:
Five Comerica Park Newbie Tips
Three Cheap Parking Spots at Comerica Park
Comerica Park Food – 3 Things To Try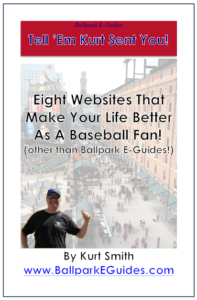 FREE eBook for traveling baseball fans! (That would be you.)

Do you love to visit ballparks and see live baseball? Subscribe to the Ballpark E-Guides e-mail newsletter today, and fill your scorecard with useful and entertaining info about your favorite ballparks, money-saving "tips of the week" for frugal fans, and of course, specials on the incredibly informative Ballpark E-Guides!
You'll also score this eBook, listing some of Kurt's favorite sites for traveling baseball fans, absolutely free of charge…just for stepping up to the plate and subscribing.
Get on base without swinging the bat…sign up today!